Meet the Manipuri Guy who Grows Soil-Less, Chemical-Free Leafy Greens
Started as an experiment in a small green house unit in 2017, today the aquaponic farm spreads over 500 sq ft, yielding green leafy vegetables. thenevibes.com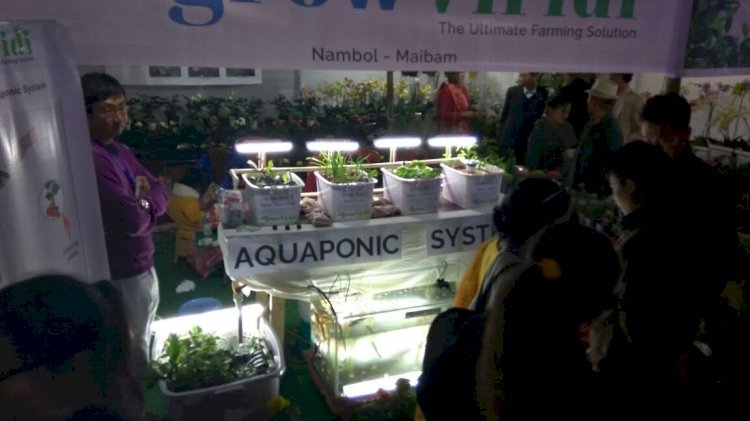 Manipuri Guy who Grows Soil-Less, Chemical-Free Leafy Greens. The neVibes Photo
Meet the Manipuri Guy who Grows Soil-Less, Chemical-Free Leafy Greens
Some 17 km drive down from the hustle and bustle of Imphal city, lies a picturesque town, Nambol Maibam, popular for the India Peace Memorial erected at the foothills of the Red Hill (Maibam Lokpaching in local parlance). The place witnessed a fierce battle fought between the British and the Japanese army during World War II.
And just about a kilometre away from this tourist centre, is growViridi, an aquaponic farm that's unobtrusively harvesting chemical-free greens. Started as an experiment in a small green house unit in 2017, today the farm spreads over 500 sq ft, yielding green leafy vegetables including mustard, lettuces, tomatoes, cucumber, spinach, coriander, basil, toningkhok, (heart-shaped herb, fish mint in English), brinjal, mint, and one of the world's hottest chillies, U- morok (Bhoot Jholokia).
What is Aquaponics?
Aquaponics is the combination of aquaculture (raising fish) and hydroponic (the soil-less growing of plants) to grow fish and plants together in one integrated system. It does not use synthetic nutrients to promote plant growth. Chemicals or pesticides would harm or kill the fish. Instead, it uses fish excreta as an organic food source for the plants, which in turn, naturally filters the water for the fish.
Aquaponics is at a nascent stage in India, and in the northeast, it is little-known. People still use the early traditional form of farming. However, the concept of aquaponics is gradually gaining attention because of the spectrum of benefits it offers:
Aquaponics is 100% sustainable
Demands very little maintenance, all the work that it involves is feeding the fish, and harvesting
Utilises minimum water as the water used is re-circulated paving way to no wastage
Climate smart – acclimatises itself to any climate, and hence the production comes round the year
100% organic food due to usage of no pesticides
Works anywhere and everywhere on sand, mountains, gardens, terraces, basement (using grow lights), rooftop
Eliminates labour dramatically when compared to soil-based methods
No breaking back, sore joints, or cracked skin
No weeding and no stinky fish pond
And the Journey…
Jeelen Sarungbam, the founder of growViridi. The neVibes photo
It hasn't been all rosy for Jeelen Sarungbam, the founder of growViridi. He did extensive study resorting to research papers, YouTube videos to set up the aquaponics. With the support of 2-3 local boys, he did everything from digging out pond, setting up the water system, laying the stone chips, to planting. The initial months have been disappointing for him, as the fishes started dying and plants fail to thrive. He wondered if things have gone wrong but after almost 4 months, things started falling into place. His hard work saw fruition as plants started fully growing and thus began the journey of growViridi.
Speaking exclusively to The neVibes, Jeelen explains, "The main focus of growViridi is to provide scalable, maintainable and sustainable aquaponic systems at home, offices, institutions, and farms."
"Viridi is a Latin word for fresh. Demand of fresh and pesticide-free vegetables are increasing day-by-day, and people are too busy to find time to grow vegetables for themselves. The main reason being – it takes time, need to get hands dirty and mainly, maintaining the condition of the soil."
"Unlike hydroponic system, where nutrients are added to the recycling system, aquaponics relies on natural ecosystem of fish, nitrifying bacteria and plants. And growViridi is working to fulfill this requirement by integrating technology with the aquaponic system. Soon, growing your own vegetables will be effortless."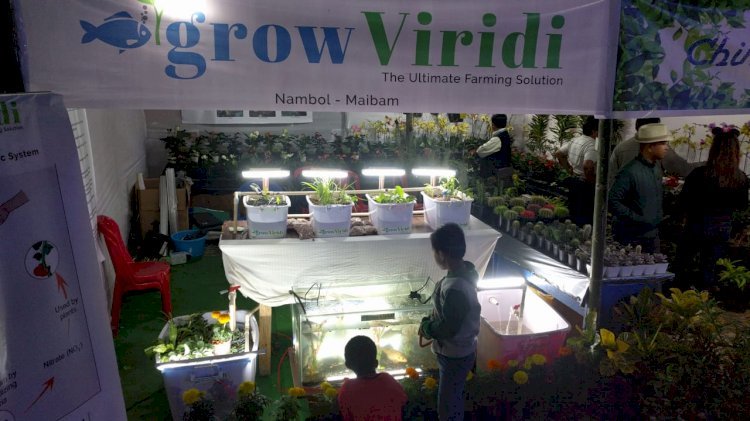 Jeelen showcased aquaponics farming technology in a small stall at the 2017 Sangai Festival, the annual tourism festival of Manipur, and it was well-received. While the determination to do something different and constructive is strong, lack of support and funds are major obstacles to upscale his farm. So, to cut down costs, he used a lot of scraps, bamboos, wooden planks to build the integrated system.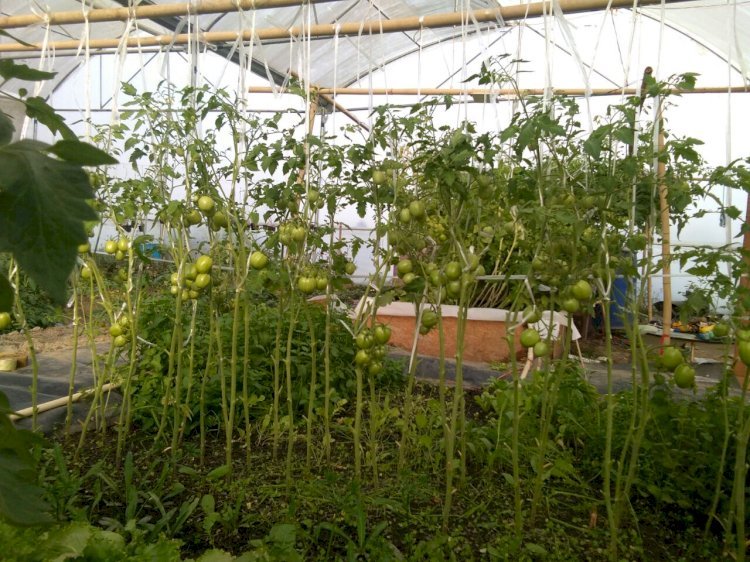 On the supply chain, growViridi is still at an initial stage. The pesticide-free leafy vegetables produced from the farm are sold in the local Nambol market, and distributed to relatives and neighbours for free. The cultivated fish including Tilapia, Common Carp, and a few freshwater fish are sold in the local market.
"Through growViridi, all I am trying is to provide fresh, clean and chemical-free food to the people, and help set up one at whatever space they have," he signs off.
The idea of having a gorgeous, technology integrated farm without getting one's hands dirty is indeed alluring. Wouldn't you like to have one in your little space?