This 8-yr-old Naga girl Writes Book to Self-Finance Her Dream
Mishanli decided to self-finance her dream, and began writing short stories that eventually led to her first book - The Unforgettable Trip to Drumheller and Other Stories. She is the youngest author of the Heritage Publishing House. thenevibes.com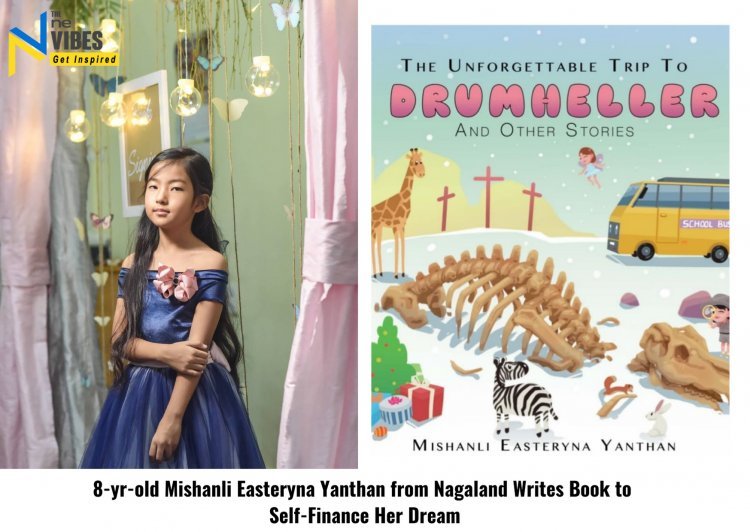 Mishanli Easteryna Yanthan and her book (Image Credit: Instagram/homemish_crafts_and_designs)
This 8-yr-old Naga girl Writes Book to Self-Finance Her Dream
Mishanli Easteryna Yanthan, 8-year-old girl from Nagaland, has become one of the youngest authors in the state with her debut book - The Unforgettable Trip to Drumheller and Other Stories, published by the Heritage Publishing House, and launched on October 24, 2020.
A student of Grade 3 at Hope Academy, Dimapur, Mishanli's book was launched by the administrator of Hope Academy, Sashila Ozukum. It is worth mentioning that she wrote the book to fulfil her dream of visiting The Royal Tyrrel Museum in Drumheller, Canada, a popular dinosaur museum. She learnt about the museum in 2018 through a family friend Julian Erb, and since then it became her biggest dream to visit the museum.
To accomplish her goal, she decided to self-finance her dream, and began writing short stories that eventually led to her first book - The Unforgettable Trip to Drumheller and Other Stories. Through the proceeds of the book, she hopes to fund her trip and realise her dream. She is the youngest author of the Heritage Publishing House.
She leaves behind a message, "No matter how young or old you are, you can always dream. Don't be afraid to follow your dreams. Believe in your heart that you can do it. And if something blocks your way in the path of your dream, find a different route and keep trying until you get there."
The illustrations of the book are done by Puloto Chishi, which have rich vibrant colours to attract the young readers. Reviewing the book, Dr. Adela Mao calls it 'eye-catching and well-illustrated.'
"We are all storytellers, no matter what our age. Our society seems to be entering a new phase where children are beginning to tell stories to other children. This is certainly a cause to celebrate," Dr. Easterine Kire wrote in the Foreword.
If you wish to help fulfil her dream, you can purchase the book from Shofar Music Academy located at ADC junction (Dimapur) and Sorshia & Co, Belho Complex (Kohima).
For positive stories about Northeast India, follow The neVibes on Facebook, and Instagram