18 Times When Northeast States Set an Example for the Rest of India
Umpteen numbers of times northeast region has proved its mettle and set an example by leading from the front for the rest of India to follow. Here are some lesser known feats of the northeastern states when they become India's first across all domains.
Loktak Lake in Manipur
It is a well known fact that the northeastern region of India is synonymous with natural vistas, sports hub, exotic flora and fauna, fashion house, and rich cultures and traditions. However, there's much more to the wonders of these eight states. Umpteen numbers of times this region has proved its mettle and set an example by leading from the front for the rest of India to follow. The northeastern states may be the least explored part of India, but they could throw some real big surprises when it comes to implementing and delivering certain plans.
Here are some lesser known feats of the northeastern states when they become India's first across all domains.
Assam became the first state in India to approve an Act that makes it mandatory for Assam state government employees to take care of their parents and needy siblings or face a cut in their income.

Finance Minister of Assam Himanta Biswa Sarma approved the PRANAM Act, also known as Assam Employees Parental Responsibility Norms for Accountability Monitoring Act. Its objective is to ensure that no parent(s) of the state government employees are forced to live in old-age homebecause of their negligence.
Th

e Northeast Frontier Railway is the first railway zone in India to hire an all-woman team of technicians for maintenance of rail coaches. The all-women team will

be manning the pit lines at coach maintenance depot in Guwahati.

T

hey will be engaged in the cleaning and maintenance work of the coaches once a train reaches its termination station.
India's first ever smart fence, a comprehensive integrated border management system, is built along the riverine stretch bordering Bangladesh in Assam. The project is being implemented by the Border Security Forces to close the vulnerable gaps along India's border with Bangladesh. The smart fences have an addition of electronic systems to the barbed wire, which helps in detecting movement along the border.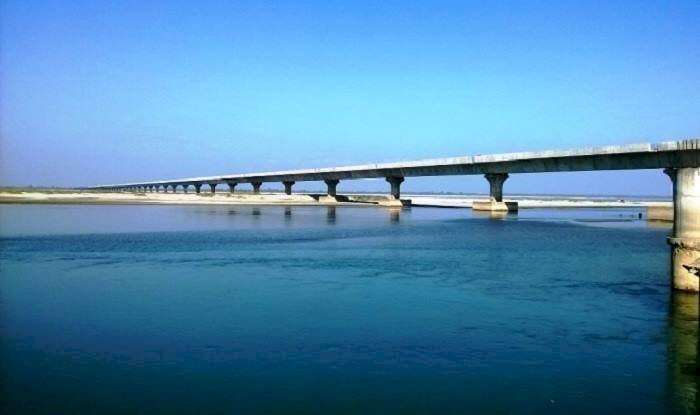 The Dr Bhupen Hazarika Setu or Dhola-Sadiya bridge

is India's longest bridge connecting Assam and Arunachal Pradesh. The 9.15 km long bridge

over river Lohit, a major tributary of the Brahmaputra,

makes it easier to transport military logistics close to the border with China.

It connects the village of Dhola to the town of Sadiya in the Tinsukia district.
Meghalaya became the first state in India to launch social audit law. Launched under former Chief Minister Mukul Sangma, 'The Meghalaya Community Participation and Public Services Social Audit Act, 2017', makes social audit of government programmes and schemes a part of government practice. It is applicable to 11 departments and 21 schemes, followed by pilot social audits for 26 schemes in 18 villages of Meghalaya.

A social audit facilitator will conduct the audit directly with the people.
Meghalaya hosted India's first Cherry Blossom Festival, a popular festival in Japan. It provided an opportunity to showcase the unique beauty of pink and white cherry blossoms, and Meghalaya's rich traditional arts, culture and cuisine to the tourists. The festival was jointly conceptualised and organised by the government of Meghalaya and Institute of Bioresources and Sustainable Development.
Aizawl, the capital of Mizoram, is the first Indian city to follow a no-honking policy. The amazing part is it is done

without any official help or legislation. No one around honks or tries to break the queue and overtakes a vehicle when caught in traffic. Everyone here refrains from honking and breaking the long queue of vehicles.
Source: Tripoto
Khonoma in Nagaland is India's first green village, where hunting and logging in the forests are strictly prohibited. This captivating and inspirational village is more than 700 years old, with Angami tribes as the main inhabitants of the village. It is located 20 km from Kohima.

Khonoma is famous for its forests and terraced cultivation. In the 90s villagers ban all logging activity and hunting in the forests.
Tripura is the first state in India to set up family welfare district committees to examine the complaints of women against their husbands and in-laws and find an amicable solution through negotiation. Tripura High Court is the first high court among 24 high courts of the country that has constituted the family welfare district committees.

The police will take appropriate action only after the district level committees submit its report.
India's first Cyber Forensic Laboratory (CFL) is in Tripura. Its objective

is to quicken the legal proceedings.

The lab at the Tripura High Court provides court case related information such as an automatic SMS alert would go from the lab to both lawyers and the litigant about the fate of the court case. If any lawyer or the petitioner is absent on the trial day, an SMS alert is sent to all concerned.
As per a report of the Drinking Water and Sanitation Ministry, Sikkim is India's first state with 100 percent sanitation coverage. It stood first among all the states and union territories in terms of sanitation coverage for both urban and rural areas in households, schools, sanitary complexes and Anganwadi centres.
The tiny state of Sikkim also became India's first open defecation-free state in 2008, long before the Swachh Bharat Abhiyan was launched. And the credit goes to the state government and the local population in collaborating to construct toilets using local materials and together maintaining a strict resistance against open-defecation.
Source: Holiday Travel
The story of Sikkim being India's first does not end there. It is also India's first fully organic state, achieving the feat in 2016. It took 13 years for Sikkim to fully implement organic farming since 2003. Around 75,000 hectares of agricultural land were gradually converted to certified organic land by following the practices and principles laid down in National Programme for Organic Production.
Sikkim became the first state in India to have Education for Sustainable Development and Global Citizenship Education. The project aims to embed concept of peace, sustainable development and global citizenship in text books of core subjects especially Mathematics, Science, Geography and Languages

for the school of Sikkim.

The project will be implemented by the State Council of Education, Research and Training (SCERT) under HRD Department with third party partnership with Azim Premji University, Bengaluru.
Loktak

Lake is home to India's first Freshwater Floating Laboratory. The lab, a 15-metre-long boat, built at a cost of Rs 5 lakh, can accommodate 10 people. It cruises on the lake analysing the water quality. According to the Institute of Bioresources and Sustainable Development, the floating laboratory has all types of modern equipment such as water quality analyser, which automatically checks 14 parameters like temperature, acidity, salinity and electrical conductivity, among others at a time. The five-person crew collects samples of microorganisms which might have a potential application in pharmaceuticals, nutraceuticals and other industries

.
Karang, a small lake island in Manipur, is India's first cashless island. The Union Ministry of Electronics and Information Technology under its Digital India programme announced Karang as the first cashless island in India. The Karang Island is located in the middle of Loktak Lake.
The beauty of Loktak Lake is that it is home to many incredible things. The lake also houses India's first indigenously-built, floating elementary school. It is situated about 50 km from Imphal, at Langolsabi Leikai of Champu Khangpok village in Manipur. The floating school is located on 'phumdis' (heterogeneous masses of vegetation, soil and organic matter). It is

the initiative of 'All Loktak Lake Fishermen's Union' in collaboration with an NGO called 'People Resources Development Association' (PRDA).
Anshu Jamsenpa of Arunachal Pradesh is the first woman in the world to climb Mount Everest twice in 5 days.

She broke the world record in 2017 and became the first woman to conquer the 8,848 meter Himalayan giant twice in five days -- first on May 16 and then again on May 21.

A

mother-of-two Anshu Jamsenpa, has so far climbed the Mount Everest five times.
Courtesy: neScholar Magazine
Watch out for this space for more!