Mentoring UPSC Aspirants, Voluntarily! A Remarkable Story of a Lady IPS Officer from Nagaland
From taking 5-6 hours of classes after work, and getting books from her own salary, Dr. Kaur is giving it all to the district, which has been close to her heart, Tuensang. thenevibes.com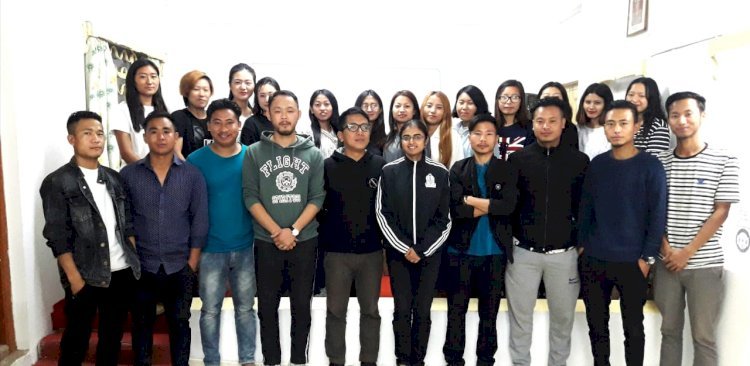 A Remarkable Story of a Lady IPS Officer from Nagaland.
Mentoring UPSC Aspirants, Voluntarily! A Remarkable Story of a Lady IPS Officer from Nagaland
Hailing from Haryana, Dr.

Pritpal Kaur is a gold medallist in BDS, from SRDC college Faridabad, MDU Rohtak University.

Securing 225th rank in UPSC,

she's currently SDPO Tuensang, Nagaland. Fond of children, she has taken several initiatives for their education and recreation (trips or plays) and mentors civil service aspirants voluntarily.
From taking 5-6 hours of classes after work, and getting books from her own salary, Dr. Kaur is giving it all to the district, which has been close to her heart, Tuensang – her first posting after completion of her training.
In an exclusive interview with The neVibes, she touched upon a range of issues. Excerpts…
Hailing from Haryana, how has been your experience in Nagaland?
Haryana got statehood in 1966, and Nagaland got in 1963. I could say that the basic infrastructure is lacking in Nagaland in every domain. There is a huge potential for sports because of inherent athletic qualities here. Haryana promotes and provides expertise and infrastructure in sports; unfortunately that's not the case in Nagaland. Roads are in very bad condition, very less mobile networks, long power cuts, poor health sector and medical aids to patients. In Nagaland, respect for females is heart-warming; whatever they wear, go or do…there is no teasing or harassment etc. And sex ratio figures also speak a lot if we compare Haryana and Nagaland.
Dr. Kaur, have you been able to figure out the reasons behind the high rate of dropouts in Tuensang district schools.
Here we have very few quality schools to give proper guidance to students and in other schools basic infrastructure is also not present. Lack of awareness, less employment avenues and poor financial backgrounds ensure students dropout to meet their daily needs. There are no scientific museums or places for recreation that enhances learning abilities of students. Both tangible and non-tangible infrastructure is required in every arena of education here.
Students of Dr.Kaur and her team
Take us through your initial thoughts when you decided to provide free coaching class to UPSC and NPSC aspirants.
I interacted with many schools, churches, student unions, drug addicts, associations, prisoners, criminals in my police station. I realised that students here have immense potential and wanted someone to mentor them for their goals, otherwise they may indulge in anti-social activities, drugs, etc. Tuensang is my first posting and people here have given me lot of warmth and love, and they have a special place in my heart. I am fond of teaching and motivating the people, and hence I thought to start this coaching on trial basis by using my own salary and little bit knowledge which I gained during my preparation time. My SP Shri Bharat L. Markad IPS provided me the venue in SP conference hall and later he supported me with money for purchase of books and other materials. I started with 9 students, and later the number jumped to 39. I started getting books from Dimapur and Hyderabad. Two NCS EAC officers Mr. Kevithito and Mr. Moasunep also joined me later for NPSC syllabus. We all started giving 5 hours daily on weekdays and around 6-7 hours on weekends. Students who were writing Mains exam were given separate classes at my home itself. This is how the journey started with God's blessings.
Nagaland is the worst performing state in NEET , UG 2019. Do you think an overhaul of the education system is the need of the hour?
Yes, quality education is the need of the hour.
Nagaland has the third highest number of HIV-AIDS cases in India. What are the steps that are imperative to combat the disease?
Many people are working with commendable dedication. We still have many HIV-AIDS cases. Awareness and education with early diagnosis must be emphasised upon, and later the treatment. Counselling and nutritional support is must for the PLHIV.
Say to No Drugs Campaign
What/who is your biggest motivation?
Who: My Mother Smt. Kartar Kaur who has always inspired me, as she also struggled a lot for her education. She taught me to do and learn everything as nothing is impossible and stressed on the need for the girls to be independent.
What: Being from Sikh religion which always provides food, shelter, protection, work, etc for society without any biases has always shown me direction to work selflessly towards humanity.
What did you like about Nagaland?
It's a beautiful place with beautiful hearts. People have extraordinary qualities such as weaving skills, heart touching singing skills, respect for women, and immense athletic potential. Their organic farming and minimal wastage of resources are remarkable. Every person helps and stands for others in need. They define the meaning of life by living happily with minimal resources at disposal.
Have you been to other parts of Northeast India?
Yes, I have been to Manipur, Assam, and Meghalaya.
What changes did you intend to bring in Tuensang?
I would like to have more informed and educated youth. They are the future leaders and I want them to work together irrespective of their tribal or creed differences to uplift and develop this beautiful place, which can excel in tourism, sports, organic farm products, singing, handicrafts, tribal arts, clothes, etc. Last but not least, it is important to make it drugs and HIV-AIDS free.
Any mantra to crack the UPSC exam.
Hard work with dedication and patience. One should keep oneself motivated and focused. Only mantra is the revision of the syllabus several times while strengthening your strengths and uplifting weak subjects.
The neVibes wishes Dr.Kaur, her team, and her students all the success!