The Transforming Face of Villages in Northeast India
Mawlynnong in Meghalaya, the 'Cleanest Village in Asia' is an outcome of community based eco-tourism initiative. thenevibes.com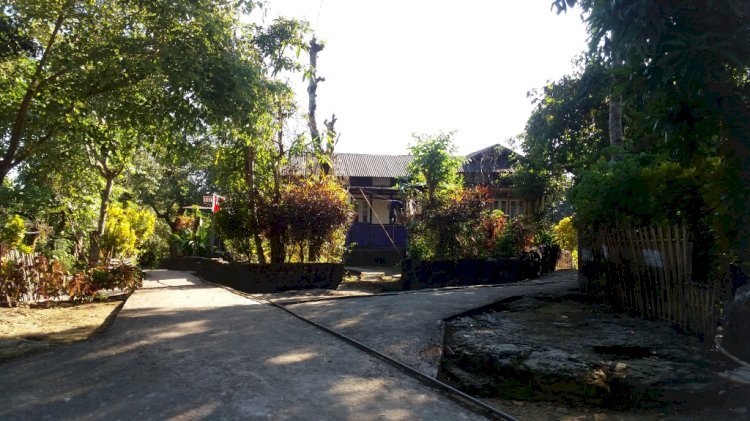 The Transforming Face of Villages in Northeast India. The neVibes Photo
The Transforming Face of Villages in Northeast India
A man, riding a bullock cart on a muddy, cow-dung laden road with paddy fields and greeneries around, directs the bullock, hurr hurr te te te te into his house. His thatched house is small and cosy. In his little land, he grows seasonal vegetables, beautiful marigold and banana trees. There's a small pond within the boundary of his house that serves as a source of all water requirements – washing, cleaning, bathing, gardening, etc, etc. Then, there are poultry family happily loitering with a care free attitude within the premises, which is guarded by a gate made of bamboo poles. Fishes, on the other hand, enjoy a world of comfort under the pond eagerly sneaking out to have a look at what's happening above the aquatic world. This is a scene of a village where I have grown up, and this is what I have assumed for every village in Manipur.
Mawlynnong, God's own Garden
Source: Facebook/Mawlynnong
However, I was awestruck and my whole idea of village goes for a toss when Ivisited Mawlynnong, a small village nestled in the East Khasi Hills of Meghalaya, about 3 hours drive from Shillong. It does amuse me a lot that a village earns world recognition only because of one reason – Cleanliness. All the media and travel channels ushered to the region to cover its story and uniqueness. And reading about it, I also landed at Mawlynnong, which was conferred the 'Cleanest Village in Asia' in 2003 by Discover India. The village is an outcome of community based eco-tourism initiative.
After leaving behind many worth-capturing places, and passing through several kilometres of winding bamboo-lined narrow roads, I reached the welcome board that reads 'Welcome to God's own Garden,' making me even more curious. The pucca roads, bamboo garbage bins, creatively manicured blooming gardens and trees all around – the colourful village laid out its arms wide to give me a royal welcome. There are many small restaurants serving tea, snacks, and local food. Homestay facility is also available. There are a few stalls selling wooden crafts, hats, ornaments, and artefacts.
Source: Facebook/Mawlynnong
Strolling along the cobbled streets, I got a sneak peak of the lifestyle of Khasis, living in the wonderfully built thatched huts and wooden houses; each house having its own radiant gardens, and bamboo bins adding to the splendour of the village.
As I got completely immersed appreciating the magnificence of the village, some little boys singing aloud, and dancing to the western song played on a music tape awoke me from my slumber.
I walked again, beholding every corner of the village. Such is the seriousness and consciousness of cleanliness in the village that a swift young girl with a bamboo basket and a broom immediately picked up a leave that just fell on the ground. I gave my tired feet some respite sitting on a bamboo bench laid under the shade of trees.
While leaving this village, I could see lot of maintenance work going on with both men and women working together to beautify it. Such an example of peaceful and beautiful co-existence! Kudos to the community for keeping the village spotless while maintaining its rustic charm. To surprise you a little more, I learnt that the village has 100% literacy rate.
There's Riwai too
Source: BBC
Mawlynnong is an inspiration to several other neighbouring villages; Riwai being one of them. Right now, Living Root Bridge, that exhibits ancient Khasi tribes bio-engineering skill, has put this village on tourism map. The bridge was built from the betel tree trunks using the roots of rubber trees, and reinforced by stones and boulders. Getting stronger with age, it was used for crossing rivers. The 80-foot-high bamboo watchtower, Sky View known as machan in locals, gives a bird's eye view of Bangladesh. Beautiful and of course, neat and clean, this village is in a close competition with Mawlynnong. Most of the villages in Meghalaya has embraced cleanliness model of tourism for the prosperity of their village, which is a good sign.
A Blooming Manipur
Source: Facebook/BloomingManipur
And there's Blooming Manipur. When you see those potted colourful and blooming flowers at some iconic markets of Manipur, such as Ima Keithel, you can be sure that it is the work of Blooming Manipur Team.
Blooming Manipur, a community based project, is gradually reaching out to every corner of Manipur in an effort to beautify, preserve and transform every street and market in Manipur. They are trying to instill a sense of belongingness and pride in the places where people live, and market from where they earned their livelihood.

Taking inspiration from 'Britain in Bloom' concept, Blooming Manipur is even successful in bringing renowned personalities from Manipur in driving a civic sense among the community for a clean locality and market. As responsible natives, we should not only pat on their back but come together and support their endeavour, after all, we all want a 'Blooming Manipur'. Isn't it?
The other Inspirations
Now, let's meet Neingupe Maru, a young constable with the Nagaland Police. He has taken upon himself the task of cleaning his town, Pfutsero, about 70 km from Kohima. He transformed his mini van into a mini dumper to collect garbage from various places of the town and dumped at dump yard. It all started when he could no longer be a silent passerby seeing everyday huge piles of garbage at various places. Soon, everyone in the town joined him in his clean mission.
Not to miss, Mizoram's Khawalailung village of Champai district, which the Prime Minister Narendra Modi had mentioned in his 'Mann-ki-Baat' on 25th October 2015. This tiny hamlet is a role model for other villages in Mizoram.
Sikkim has set an example for rest of India by being India's first and only open defecation-free state, as recorded in the nation-wide sanitation survey.
We can also take a cue from Rangchapara village of Goalpara district, which has been awarded the cleanest village in Assam by the Public Health Engineering Department (PHED).
Thankfully, most of the villages in Northeast India are conscious about cleanliness much before PM Modi's Swachh Bharat Mission even started. Greater support and encouragement from state governments, and collective participation of community are all we need for a completely clean Northeast.
Courtesy: neScholar Magazine