Unveiling Meghalaya's Kudengrim: A Heavenly Hamper with Myriads of Surprises
Mother Nature has graciously bestowed Kudengrim with unparalleled natural vistas. It is a treasure trove of milky white gushing waterfalls, unique living root bridges, and more. thenevibes.com
Kudengrim is a heavenly hamper with myriads of surprises. Image Credit: Lumlung Kamei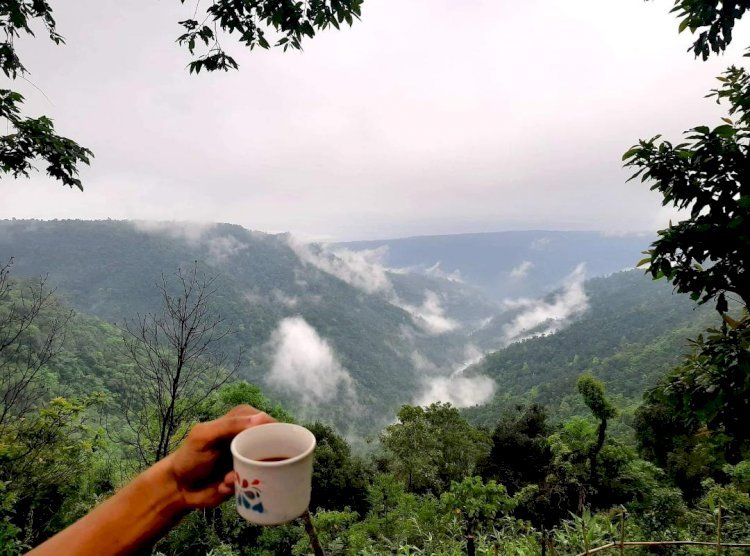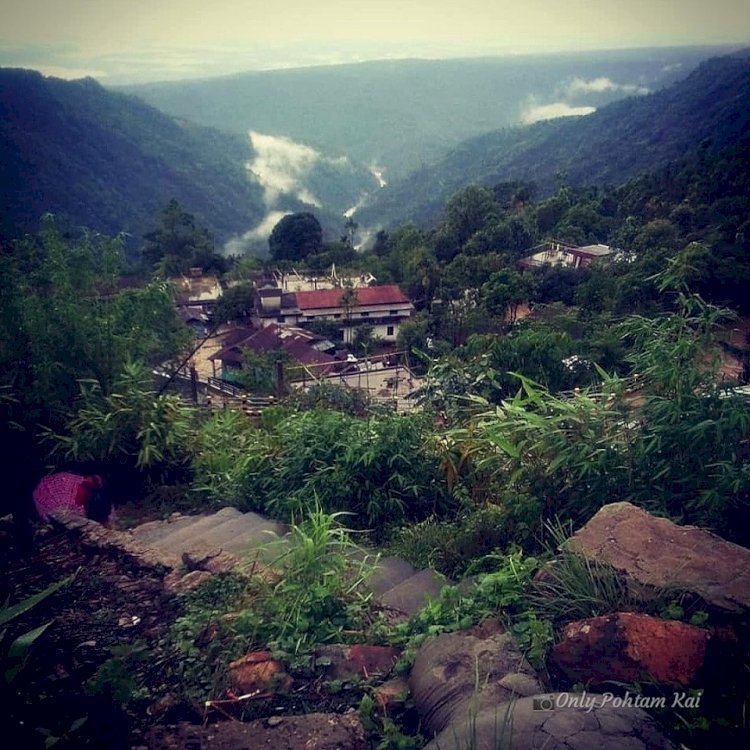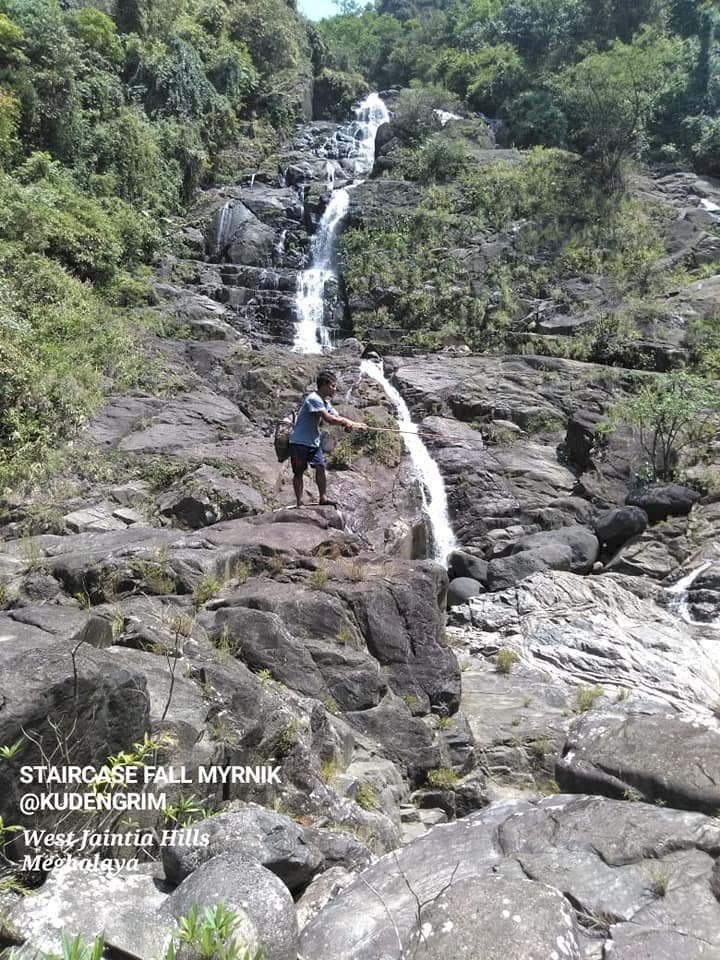 Unveiling Meghalaya's Kudengrim: A Heavenly Hamper with Myriads of Surprises
The mystical land of Meghalaya never fails to surprise us. There is a hidden beauty that unfolds in the nook and corner of this naturally blessed state. While we are yet to come out of the mesmerising effects of Cherrapunjee, Mawlynnong, Dawki, Nongriat, Shillong, a charming hamlet, which is about 3-hour drive from Shillong is giving us travel goals. We are talking about Kudengrim village, located at Amlarem sub-division in West Jaintia Hills.
A few years back, Kudengrim was one of the least explored places in Meghalaya, over shadowed by the popular ones. It was mostly the people of neighbouring villages and from Shillong, who paid visit to this place. All this while, the village headman, Mondew Pohtam Hayong and villagers were working in tandem to put the village on the global tourism map. Their efforts started paying; Kudengrim is gradually witnessing steady inflow of tourists from other parts of India and abroad.
Mother Nature has graciously bestowed Kudengrim with unparalleled natural vistas. From cascading waterfalls, sturdy living root bridges, natural swimming pools, rich fauna and flora to spectacular surrounding views, it is a beautifully wrapped gift hamper with loads of lovely surprises inside.
Let's unwrap its many wonders.
Living Root Bridges
The living root bridge showcases ancient Khasi tribes bio-engineering skill. The bridge was built from the betel tree trunks using the roots of rubber trees, and reinforced by stones and boulders. It gets stronger with age and is used for crossing rivers. In this village, there are four living root bridges but only two have been exposed to the world. The unique bridges are renowned for its beauty, height, scenic surroundings, its technology and sturdiness.
Amlamar Double Decker Living Root Bridge
Amlamar Double Decker Living Root Bridge
This 200-year-old living root bridge over Amlamar river is the only living root bridge in Meghalaya with an arched tunnel like entrance. Known in local parlance as LeU Chrai Amlamar, treading on this bridge gives you an out of the world experience, which is seen only in fictional Hollywood movies. One tunnel of the bridge takes you to the other sides of Amlamar River, while the other tunnel drops you down at the river from where you can soak in the magnificence of the flowing river. This is the only double decker in Jaintia Hills. The upper level was constructed by the present generation. The villagers would be happy to share with you how this ancient bio-engineering technology works.
Amkshar Living Root Bridge
Amkshar Living Root Bridge
Amkshar Living Root Bridge is about 400-year-old and is approximately 118.4 feet in length and 72.1 feet high from the surface of Amkshar River. This single decker is one of the highest suspension living roots bridges in Meghalaya. During Jaintiapur Kings' era, the bridge was used by villagers from Padu, Jarain, Syntung and others to travel to Dawki and Sylhet town for marketing and other purposes.
The other two living root bridges are Amchrai Living Root Bridge and Amsohlashan Living Root Bridge, which the villagers have not exposed to the tourists yet.
Gushing Waterfalls and Natural Swimming Pools
Kudengrim is a treasure trove of milky white gushing waterfalls. There are four popular waterfalls and several hidden ones in every corner of the village.
Rbangpohpamlong Waterfall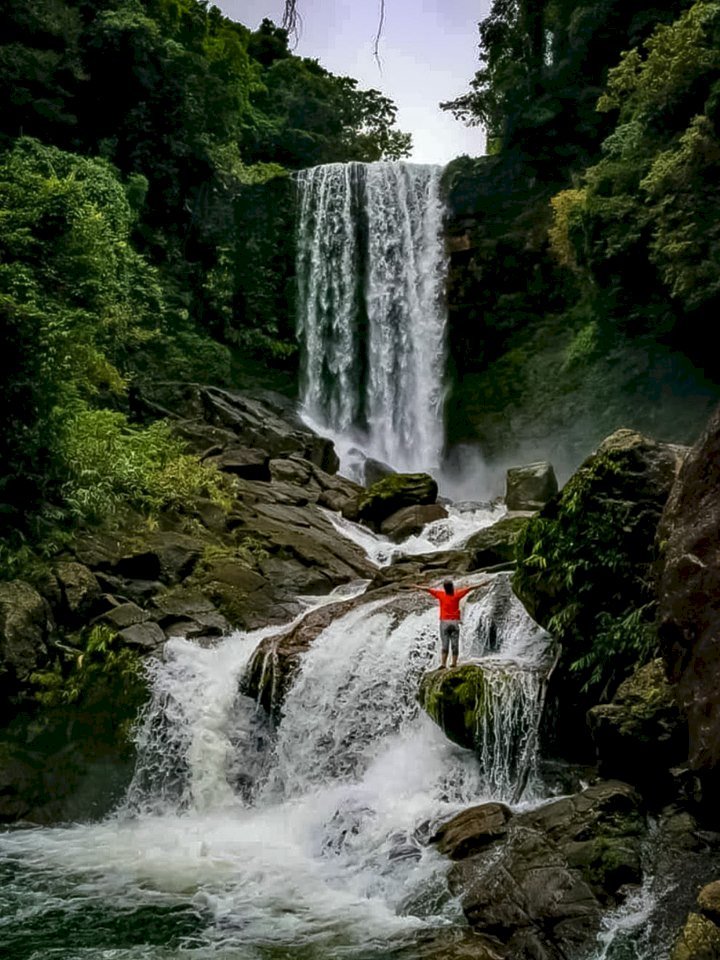 Rbangpohpamlong waterfall
Amlamar river feeds the Rbangpohpamlong Waterfall resulting in a majestic showdown. From a steep height, the waterfall cascades with full force, roaring, splashing, and rumbling across its rocky path and after some point, gently streams down. The pleasant earthy odour emanating from surrounding trees and rocks entices you. The steep and long bamboo ladder by the side of this vertically high waterfall speaks for the talent and engineering skill of the villagers. The village headman and the locals got together to construct the ladder without using a single nail.
Mukre Multi-tier Waterfalls
Mukre Multi-tier Waterfalls
Fed by Amlamar River, the sparkling water stepping down in a series of connected waterfalls makes Mukre Multi-tier Waterfalls, a wonder difficult to take your eyes off from. The soothing sound of the waterfalls is a pure bliss. You can take a plunge in the clear, pure and breath-taking natural swimming pool. The many emerging streams from the rocky banks cascades from the top of Mukre Multi-tier Waterfalls.
Sohran Waterfall and pool
Sohran Waterfall of Amkshar River is another popular waterfall destination in the region. The crystal clear water gently flows down from rocky steps and meets at a natural swimming pool, Sui Sohran, where you can dive in and enjoy some surreal moment. The pool houses a lot of fishes.
Kudengrim is a land of abundant hidden natural swimming pool. Rbang Rwet Waterfall and Staircase Myrnik Waterfall are the two other gems.
Other Attractions of the Village
The village also has five sacred groves - Basan Thok Tekur, Basan Amlamar, Basan Amkhlow, Basan Talang, and Basan Pohshwet. Like other sacred groves in Meghalaya, the forests in Kudengrim also respect the age-old religious beliefs, in which forests are observed as sacred entities. The locals have been preserving the forests since time immemorial. Cutting of trees, plucking of leaves, fruits, twigs, spitting and peeing in these forests are not allowed. If you pee, you may get some swelling around the genital area. Well, that's as per a story but mind you don't dirty the forests. Any form of alteration to these sacred groves is banned. And if happened by mistake, you will have to come back to the forest to perform a ritual to atone for the sin, and to avoid any harmful or bad luck to yourself. These sacred groves are home to many beautiful species including indigenous me­dicinal trees and plants, wild orchids, wild flowers, pitcher plants, and rare species of animals and birds.
A long bamboo bridge between two trees with high resting platforms demonstrates the expertise of the locals.
Tree house
Atop an artful tree house or view point, constructed with bamboos and canes, you can enjoy the scenic view of neighbouring villages and Bangladesh.
Fish sanctuary
There is a fish sanctuary full of local fish, known as Kha Saw. Other aquatic life includes prawns, crabs, and small fish species, locally known as Ktung Lemerong. Fishing is banned in the protected area. However, there is an exception. It is believed that the fish helps in recovering from illness. So only the sick, old and pregnant women are allowed to have the fish after seeking permission from the village headman. Government officials who visit the village for some development purposes are allowed to catch the fish, which they can carry home. The swimming pools present on the course of the fish sanctuary are Wah on top of Rbangpohpamlong falls, Sui Rubon, and Sui Chui. The protected portion of the river extends approximately 500 metres in length from Wah swimming pool to Sui Chui. Henceforth, villagers can catch the fish.
The steps cut out of the vertical massive rock by the ancestors as footpath to their betel leaf farms is indeed laudable. The footpath carved out from the rock was established in 1956 at a total scheme of only INR 80.
Metallic bridge LeU Amkshar
Get high on thrill as you trek down the

LeU Amkshar, a high suspension metallic bridge overlooking the Amkshar river. This long bridge looks V-shaped when viewed from one end. It joins Kudengrim with Kudengthymmai village. It is used as a means for transportation; villagers carry commercial crops such as betel leaf, betel nuts to sell at Dawki Town, and to visit other villages.
Go adventurous and trek down the Amshkar living root bridge. In your path, you will come across many spectacular spots including Sohran pool, and Amtyrnat Waterfall.
Amtyrnat Waterfall
There are several unexplored caves including the alluring Krem Lohngi Cave with hanging creeping roots. Before reaching Kudengrim, there is Nongbareh Amshrai Cave, located in between the village of Nongbareh and Kudengrim.
War Jaintia community is the main inhabitant of this village. Let us tell you, the village is spick and span and littering is banned. There are bamboo baskets decked up around the village to dump waste. Rearing of pigs is a big NO in the village. The villagers do not hunt during the breeding season of animals, thus allowing animals to multiply and contribute to the eco-system. They are hardworking, friendly and their warm hospitality will win your hearts.
It is believed that the people of Kudengrim are protected by their sacred god, Prai Thok Tekur. You cannot harm the villagers. A popular legend has it that a lady went to the Wah swimming pool to fetch water. While she was fetching water, some dacoits came and tried to capture the lady. Suddenly, spines sprouted out from her body, and she was fully covered, thus protecting her from the dacoits. After the incident, the dacoits ran away from the village.
The cozy Amshlai cottage
A stay at the Amshlai Cottage is advisable if you want to get up and close with the village. From the cottage itself, you can get a spectacular view of Bangladesh, Shnongpdeng, Rbang Rwet waterfall, and the surrounding beautiful landscape. Taking a local guide will be a smart move and you won't miss out any spot.
Krang Shuri Waterfalls, Shnongpdeng, Dawki, and Darrang are nearby tourist attractions. Smooth, fast and black topped winding roads lead to a myriad of attractive spots enroute; the myths and legends add to the captivating elements of Kudengrim village.
Give yourself some 'me time,' and immerse in the beauty of this fascinating village! For a memorable trip, get in touch here. You can also follow here.
Image credit: Facebook/Kudengrim Tourism