Four IITians Pull Tourists to 'Explore' Northeast India, Courtesy their 'Fancyland'
Their company is for new-age travellers who want to explore the region than merely travel. They have introduced a sustainable tourism for the northeast. thenevibes.com
Fancyland is for new-age travellers who want to explore the region. Image Credit: Chirantanu 's Photography
Four IITians Pull Tourists to 'Explore' Northeast India, Courtesy their 'Fancyland'
There's more to northeast India than just the natural vistas, tranquil lakes, cascading waterfalls, and virgin forests. There are many things 'beyond your imagination' in these eight states of Northeast India. That's what these four graduates, Bhaskar Saikia, Ashim Rajkonwar, Himangshu Chauhan and Yash Bohre, from IIT-Gandhinagar, are delivering with their travel start-up 'Fancyland'. 'Fancy' means something which is beyond your imagination and 'Land' means the Northeast. Hence, Fancyland means 'Northeast is a land of your imagination.'
Their company is for new-age travellers who want to explore the region than merely travel. They have introduced a sustainable tourism for the northeast, where the explorers themselves customised their trips. The neVibes caught up with Bhaskar Saikia, Co-founder and CEO of Fancyland. Excerpts…
Take us through your journey from IIT to Fancyland.
Fancyland was started in a management course, "Engineering Entrepreneurship" when I was at third year of my Engineering at IIT Gandhinagar. Previously I was working as a co-founder and community manager for a Content Marketing Start-up called 'White Panda'. I had quite an experience during the management of 'White Panda'.
In 'Engineering Entrepreneurship' course, I had shared my idea with three of my friends viz. Ashim, Yash and Himanshu. They were showing interest in this. From starting onwards, I wanted to do something for NorthEast India tourism industry. We planned it accordingly and we pitched our idea in classroom presentation. In the next semester also, we have continued the project in 'Business Skill' course. We got more inputs from Prof. Raj Jaswa and done some research and real life experiments with some explorers of our college. We have been scaled up and product implementation is going on.
Two months before, Filza Piya Borah has joined us as a content developer.
From Left: Ashim, Himanshu, Yash, Bhaskar and Filza
How do you prepare the customised travel trips?
Fancyland mainly works on Customized Tour plan concept rather than providing a fixed itinerary. Here, we are not the trip planners; tourists will plan their own trip according to their preferences. Our inbuilt algorithm will help the tourists for making their own travel plan.
How has been the response so far?
Till date, we have covered around 30 trips through Fancyland and the response from the travellers could not have been better. In person or through social media, they have appreciated Fancyland for their amazing stay. The tourists have also written a number of blogs and clicked great pictures of the places they have visited which are available on Fancyland social media platforms. We are improving our processes with each experience, with each trip we cover and we aim to keep our promise to make each traveller happy and content.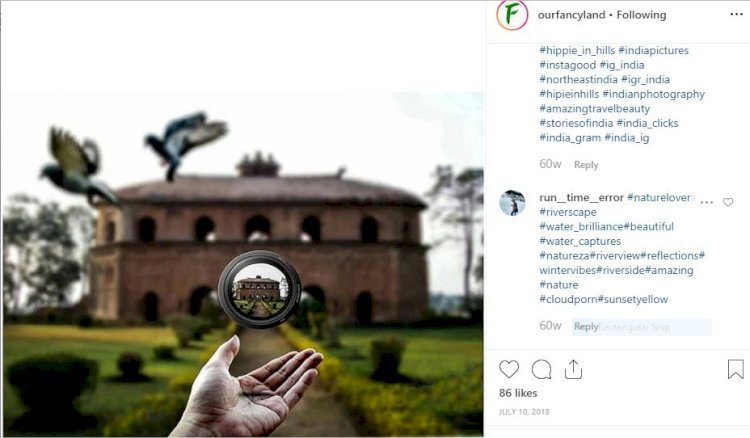 Enlighten us on the sustainable tourism model of Fancyland.
With the concept of sustainable tourism, Fancyland aims to ensure participation of all relevant stakeholders in order to maintain high level of tourist satisfaction. Fancyland will try to make a positive impact on environment, society and economy through sustainable tourism.
How do you provide tourists the access to different tribes, their lifestyles, culture, food and festivals?
Helping the tourists mingle with the local folks, their culture, food habits, festivals, music etc is hardly a problem as it can be found in almost every corner of the northeast states. Our team members have travelled most places of the states and interacted with the local folks, while generating all the information about what's the best in each place and we have the details about how to cover each state without missing the best part in it.
What is the USP of Fancyland?
Fancyland mainly works on Customised Tour plan concept rather than providing a fixed itinerary. Here, we are not the trip planners; tourists plan their own trip according to their preferences. Rather than only covering the site visits, we provide an unforgettable tour experience along with different cultural and traditional activities.
We help tourists explore rather than travel, and let them savour the taste of local food, experience traditional culture and explore at the grassroots level.
What will you tell someone who hasn't visited the northeast yet?
Northeast is the most diverse combination of eight states, a fact that is visibly prominent in its people, culture and climate. From the eternal snowy hills of Arunachal Pradesh, the mighty Brahmaputra and the diversity among thousands different tribes of Assam, the Khasi hills and breath-taking waterfalls of Meghalaya, the myriads of monasteries and temples in Sikkim, Dzukou valley and picturesque lakes of Nagaland, the age old temples and great food habits of Tripura, colourful attire of the womenfolk of Mizoram, their musical festivals and the popular Cheraw bamboo dance during the festivals, amazing music, handicraft to the finger-licking cuisine of Manipur.
One will carry back long last memories of their stay in Northeast. Fancyland can make sure that your trip to Northeast will be your best trip ever.
Last but not least, when are you going online?
We plan to release the beta version of the website by the end of this year only. Trying our best!
Love to 'explore' Northeast India and not just travel, get in touch here