When in Assam, You Must Try These 10 Super Delicious Exotic Assamese Dishes
Assamese are fondly called 'Kharkhua' and when in Assam, never miss a 'khar dish. thenevibes.com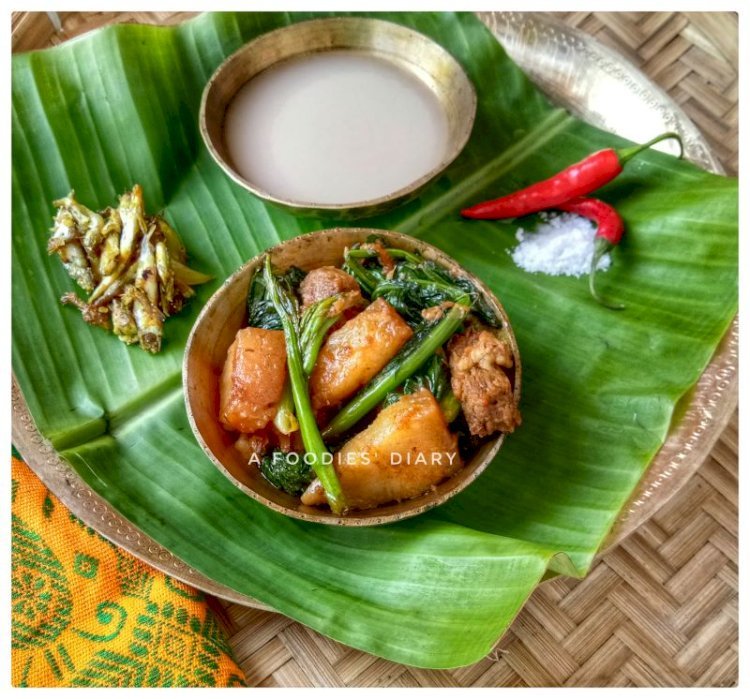 Food expert and blogger, Dr. Geeta Dutta shares some flavourful Assamese dishes .
When in Assam, You Must Try These 10 Super Delicious Exotic Assamese Dishes
Food expert and blogger, Dr. Geeta Dutta
Assamese cuisine is known for a perfect fusion of both vegetarian and non-vegetarian dishes; with a tinge of spiciness, simplicity, and strong aroma, it will tantalise and tease your taste buds. Hop on to a gastronomically ride to the birthplace of Indian tea, Assam as food expert and blogger, Dr. Geeta Dutta shares with you some invigorating and flavourful Assamese dishes that are rife with textures. You will also love her way of divulging the anecdotes associated with each dish. Relish it!
1) Haah Joha Kumurar Anja (Duck cooked with aromatic ash gourd)
No Assamese feast is complete without this exotic dish. Duck meat is generally enjoyed in the winter months as the grains ripen in the fields. The ducks eat these grains and grow fatty. Cooked with a special type of ash gourd called 'Joha Kumura' that smells like joha rice when cooked, this dish is considered a mark of honour. Only traditional spices such as ginger, garlic, green chillies and black pepper are used to cook it. It is exotic and prime attraction in our 'Magh Bihu Bhuj'.
(2) Maasor Tenga (Sour fish curry)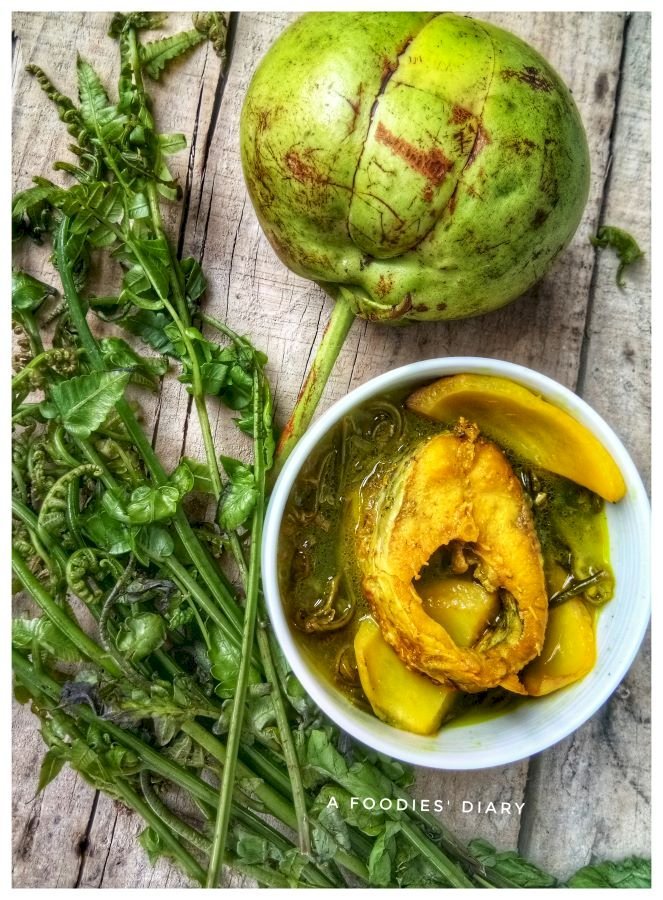 A must have dish, especially in a hot summer noon to keep ourselves cool. Fish curries are cooked with various souring agents such as lemon, outenga (elephant apple), thekera (garcinia), tomatoes and sour greens like Roselle leaves, Suka xaak etc. One of the most common and hot favourite fish 'tenga' is cooked with tender fiddle head ferns (dhekia xaak) and Outenga. A bowl of this light sour fish stew with rice in a hot noon is what we call bliss!
(3) Omita Aru Mati Dailor khar (khar preparation of papaya and split black lentils
Assamese are fondly called 'Kharkhua' and when in Assam, never miss a 'khar dish. 'Khar' is extracted from burnt peals of banana; this alkaline extract acts as a palate cleanser, appetiser and helps to balance pH level in stomach. There are numerous khar preparations. One of the favourite khar preparations is cooked with raw papaya and split black lentils called Mati Dal. A khar is served in the beginning of the main course. Adding a few drops of raw mustard oil to a bowl of khar takes its taste to a superlative level. Taste it and feel like a 'kharkhua.'
(4) Sungat Diya Gahori Mangxo (Pork cooked in bamboo tubes)
This is a common method of cooking meat among various tribes of Assam. Bamboo trees grow abundantly here. The meat is just marinated with ginger, garlic, chillies and herbs and cooked in these bamboo tubes. The inside layer of bamboo gives a beautiful aroma to the pork too.
(5)Poita Bhaat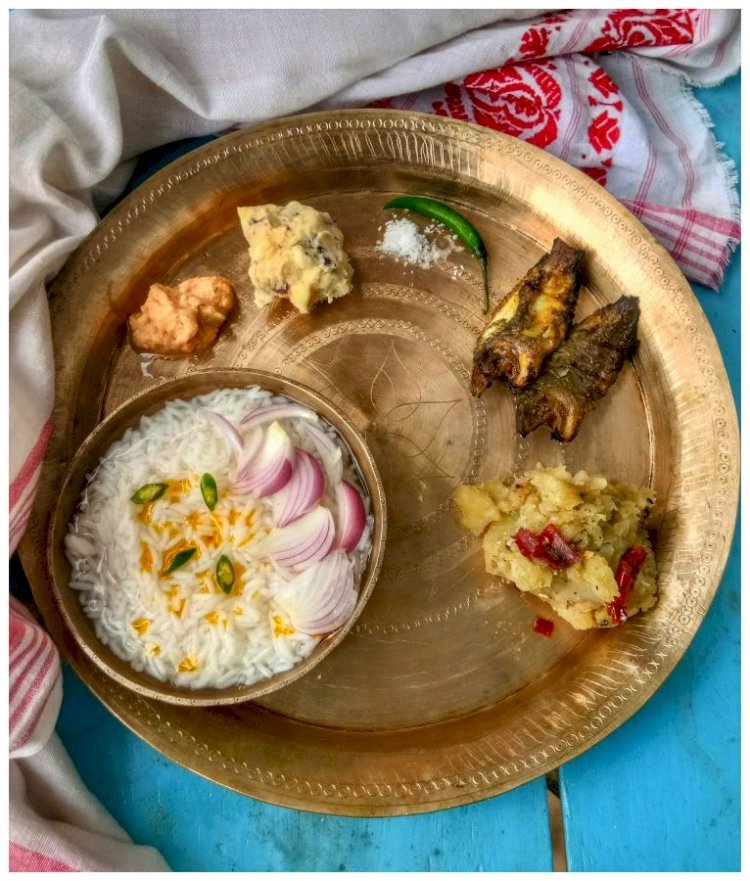 This dish evolved from our rural areas, when people never discarded the leftover rice cooked for dinner, instead soaked them in the utensil where rice was cooked. Next morning, it is converted to a damn tasty and easy breakfast just with chilly, onion, a pinch of salt, raw mustard oil, fire roasted potato or fish. Just before leaving to fields and daily chores, it becomes a healthy option. Poita bhat that was once considered as a poor man's breakfast gradually became very popular and found its place in restaurants' menu. The 'Majulir Exaaj' in Guwahati serves a beautiful poita bhaat platter.
Well, my poita bhaat is incomplete without slices of onions, mashed jackfruit (kothalguti seeds) with 'khorisa' or pickled bamboo shoot, fire roasted fish, a chutney of grinded red lentils, mashed roasted potato, a generous drizzle of mustard oil, a pinch of salt. Need a good nap after this meal!
(6)Jolpaan
The term 'jolpaan' is used both for mini meals at breakfast and in evening. A very healthy option, a 'Jolpan' consists of either cooked 'Bora Saul' or sticky rice, sira or flattened rice, or 'Kumol Saul', a special curated variety of rice that needs no cooking. It is served with homemade curd, jaggery, 'hurum' which is a type of puffed rice. Traditionally served in an exotic bell metal 'baan bati', a jolpan is a mark of respect, and is energetic too.
(7) Fish cooked with medicinal herbs
The Assamese cuisine is known for its medicinal and healing properties. A wide range of medicinal herbs are used in our traditional cooking. Naraxingo paat (curry leaves), Manimuni, Bhedailota (shunk vine), mosundari (fish mint), matikaduri (sessile joyweed) are few of them.
Fresh fish from ponds and rivers are cooked with this herb, which are both healing and damn tasty. One of such dishes is Kawoi fish or climbing perch fish cooked with Bhedailota leaves (shunk vine), flavoured with a pinch of black pepper.
(8) Lai Xaak Gahori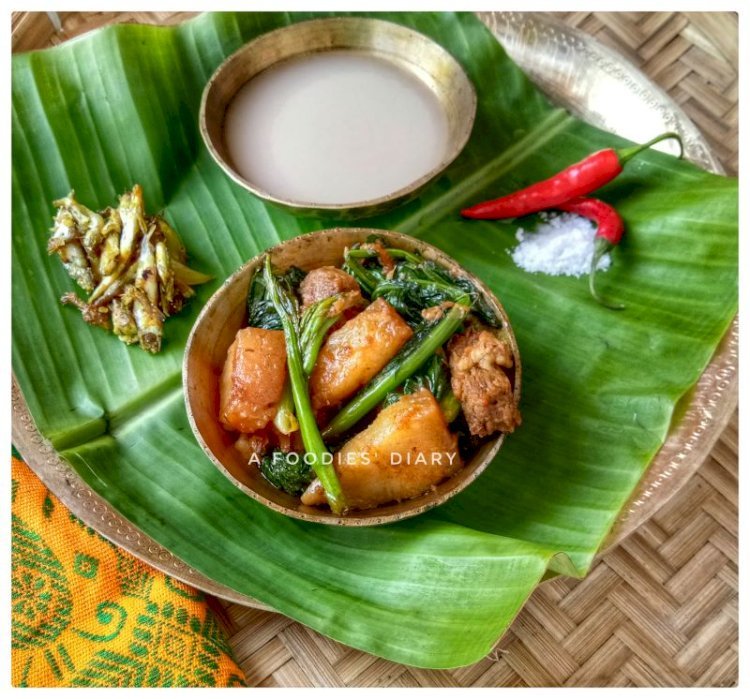 'Lai xaak gahori' or pork boiled with tender green leaves of mustard greens is one of the most favourite dishes. Maybe the simplest pork dish, but nothing can beat it. The crunch of the mustard greens adds beautiful texture to it. Either with a plate of rice or with a bowl of traditional rice beer, never miss it!
(9) Halodhi Paatot Diya Maas (small Boriola fishes wrapped in aromatic turmeric leaves and steamed)
This technique of wrapping in leaves and steaming is practiced and popular across northeast. The leaves commonly used are banana leaves, Tora leaves, Turmeric leaves etc. The natural fragrance from these leaves infuses with the fish making it more interesting.
Small fishes such as 'Dorikona,' 'boriola' are cleaned, mixed with finely chopped chillies, onions, culantro or 'maan dhonia,' a bit of salt, raw mustard oil. These are wrapped in parcels by turmeric leaves and steamed. As they are cooked, once you unwrap the leaves, the beautiful aroma will make you drool.
(10)Koldil Murgi (chicken cooked with the banana flower)
The banana flower, called 'koldil' is rich with iron, dietary fibres and vitamins. The outer coverings of the koldil are removed; the inner part is chopped finely and cooked with country chicken using chillies, ginger-garlic paste and black pepper. It is either made into a gravy or dry fried. Both the versions have excellent taste, try it with rice.
Can't wait to try them out? For detailed recipes and more scrumptious food, follow @ A foodies' diary and geeta_4u
Dr. Geeta Dutta is a foodie by passion. Studying about food history, different traditional recipes, and documenting them is her interest. She loves cooking, and also travelling. The rustic way of life and food fascinates her.