Don't Mess Up! Young Girls in Assam all Set for 'Prahar'
Prahar has trained more than 100 girls at different places of Assam. So far, they have conducted their classes at Pathshala, Tihu, Barpeta, Nalbari and Sarthebari, following the Covid-19 protocol. thenevibes.com
Prahar has trained more than 100 girls at different places of Assam till now.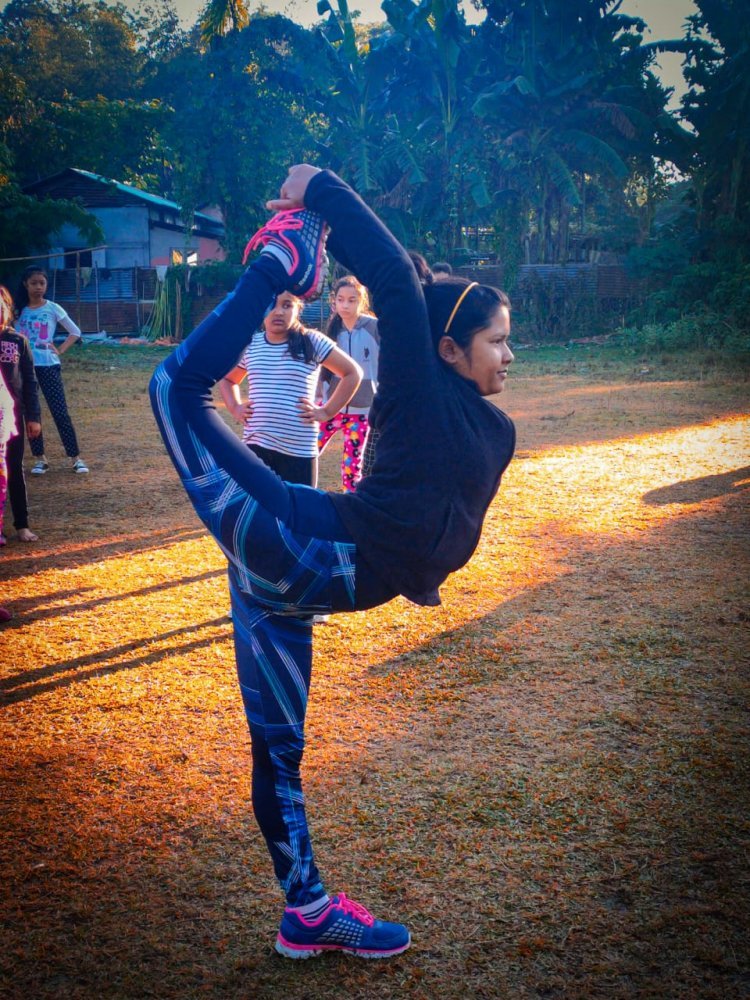 Don't Mess Up! Young Girls in Assam all Set for 'Prahar'
Scenes of girls throwing some kicks and punches in the air as early as 5:30 in the morning in an open field have grabbed the eyeballs of curious onlookers. For the natives of Pathshala in Barpeta District of Assam, this is a rare sight. However, for the girls attending this class -- it's a belief that this will ensure their safety, independence, and will give them oodles of confidence.
According to the annual National Crime Record Bureau's 'Crime in India' 2019 report, a total of 4,05,861 cases of crime against women were registered during 2019, showing an increase of 7.3% over 2018 (3,78,236 cases). The crime rate registered per lakh women population is 62.4 in 2019 in comparison with 58.8 in 2018. Shockingly, Assam reported the highest rate of crime against women at 177.8 (per lakh population).
With the crime rate increasing at an alarming rate, the safety of women is a huge concern.
The 23-year-old Moon Das, a black belt holder in Taekwondo, always wanted to promote the concept of self-defence among women in Assam. Initially, he thought of collecting videos from martial art practitioners across the state, and to upload the videos on a Facebook page. However, the lack of interest and support from others make him shelved his plan.
Prahar - The Beginning
Moon Das along with his friend, Rakesh Roy, a black belt holder in Karate, then decided to introduce the self-defence class offline. Rakesh's student Bibhu Ranjan Das too joined the team. He holds orange belt in Taekwondo. They belong to Patacharkuchi, Bajali. Interestingly, they all are college going students, and pursuing their graduation.
Moon Das along with his friends, Rakesh Roy and Bibhu Ranjan Das started Prahar
Earlier, they thought of starting the class from a particular place, but realising that girls from other places may not be able to join, they decided to visit the places where girls were keen to join the classes. They created a Facebook page – Prahar, which created the buzz about this Free Self-Defence class. Soon, they were contacted by some girls.
Following all the Covid-19 guidelines and social distancing, their first class kicked off at Pathsala town in Barpeta District with 8 girls, sometime in October.
Speaking to The neVibes, Moon Das says, "It was during that period when the Hathras incident shook the entire nation. Most of the parents in the town are willing to send girls for self-defence class but due to distance and monthly fees, they couldn't afford. When the parents learnt about Prahar, they themselves came early in the morning to check how the classes are conducted. This gives them a lot of confidence and they started supporting Prahar and sending their girls to the class."
Later on, the number of girls rose to 30.
Prahar gets the right fillip when Assam's popular Youtuber Bikash Chetry learnt about the group, and he shot a video with them, which he uploaded on his channel along with the contact details. They were inundated with calls from various parts of Assam.
Today, they have trained more than 100 girls at different places of Assam. So far, they have conducted their classes at Pathshala, Tihu, Barpeta, Nalbari and Sarthebari, following the Covid-19 protocol.
It's FREE and Always will be
Their aim is to teach girls some kicks, punches, and techniques to make them more confident and shrug off fear. Earning money through this will deviate their mission. "If we are invited to some place and if we quote our charges or say even 50 rupees, people will doubt our intention; they will think we are doing this for money, and it is our business. We don't want such a thought come to anyone and hence, wanted to keep the classes completely free," says Moon Das.
In the class, they teach a blend of karate and taekwondo, and some quick and easy techniques with recreation of possible scenarios from real life, which the girls will practice for 2- 3 days. Before starting the class, they have warm-up exercises, followed by running. Prahar team will visit and check their practice; once the girls have mastered the steps, they teach another set of techniques.
The girls will practice the steps every morning and evening. Also, these girls teach girls from neighbouring areas and that's their idea - to train the girls, and for them to train others, and so on, and soon it reaches across Assam.
Pratyashi Nath, who has joined their first class and is still attending the class and teaching other girls, says, "It makes me independent, I don't need to depend on others for my safety and I have that confidence and capability to protect myself and also my friends."
"When we started Prahar, some people were mocking us - saying you will get no support, this will not work, but all three of us are adamant to do this. And today, inspired by us, we saw many martial arts institutions in Assam offering free self-defence class for women. This makes us happy; we may not be able to reach to every corner of Assam but we are elated with this movement happening," Moon Das says.
Women from all ages have shown interest in the self-defence lessons, and Prahar plans to start a class for them soon. Meanwhile, they have started free class in Nirmal Haloi College, Patacharkuchi. Also, they have started yoga class once in a week tutored by Lipika Talukder, who holds a master degree in Yoga. And yes, all these classes for FREE!
For positive stories about Northeast India, follow The neVibes on Facebook, and Instagram