Bamboo can Contribute to Atmanirbhar Bharat & Atmanirbhar NorthEast: Kamesh Salam, founder of WBD
A unified body to harness the potential of bamboo as commodity is the need of the hour so we can rightly call bamboo as 'Green Gold' or 'Timber of 21st Century' or 'Poor Man's Timber'. thenevibes.com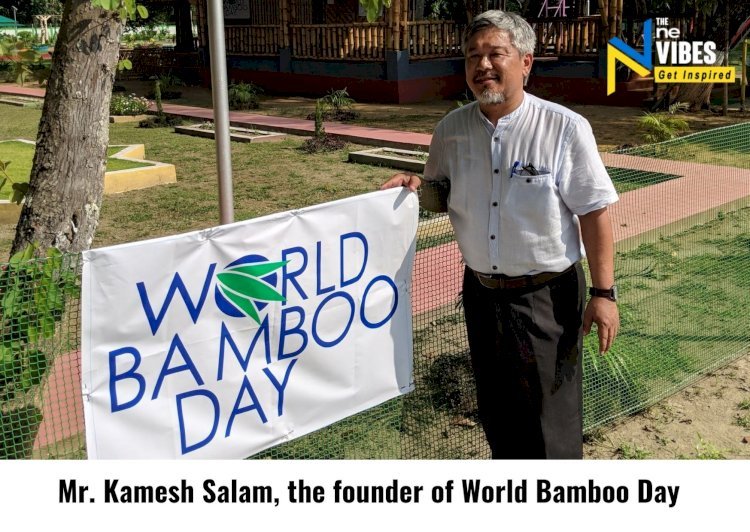 Kamesh Salam is also the Founder and Executive Director of South Asia Bamboo Foundation.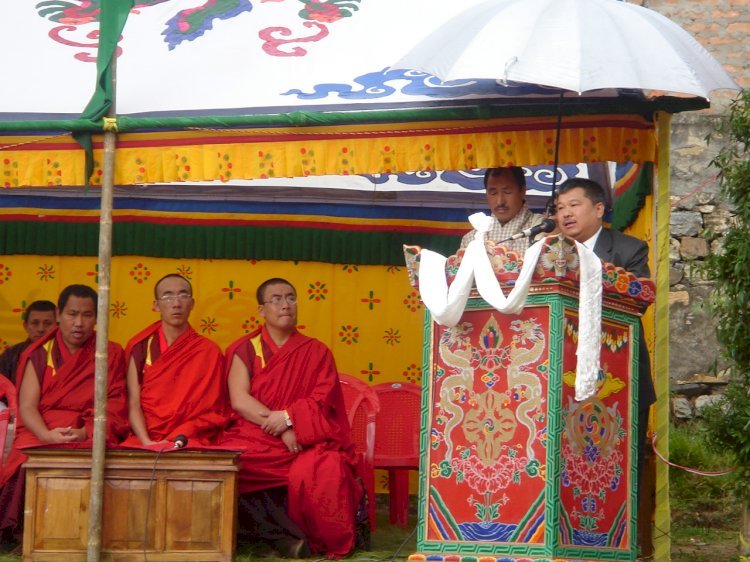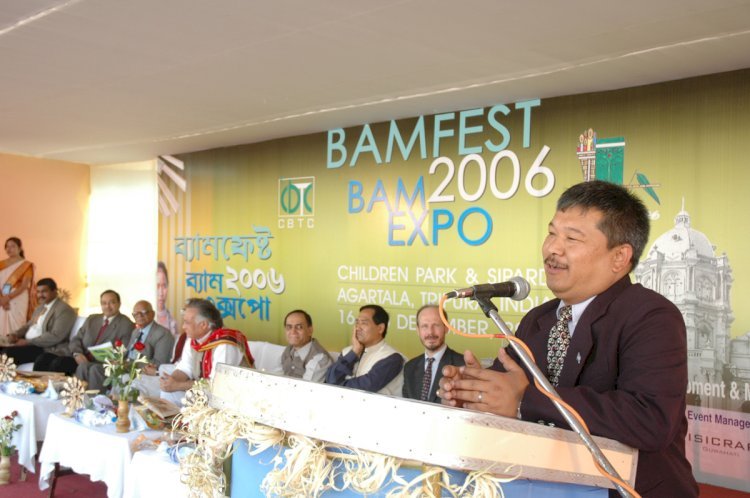 Bamboo can Contribute to Atmanirbhar Bharat & Atmanirbhar NorthEast: Kamesh Salam, founder of World Bamboo Day
Today, we are celebrating the World Bamboo Day, thanks to Mr. Kamesh Salam. He is the founder of World Bamboo Day, and is a skilled Bamboo management expert with more than 25 years experience in the bamboo sector. He was also the Former President of World Bamboo Organisation.
Currently as the Founder and Executive Director of South Asia Bamboo Foundation, he is working on bamboo based community and livelihood developments in South Asia.
On the 11th edition of the World Bamboo Day 2020, Mr. Kamesh Salam speaks to The neVibes on the challenges of the bamboo sector, its importance in the rural economy, steps to revive the sector, and much more. Excerpts…
Thank you for speaking to The neVibes, Mr. Salam! Tell us about the World Bamboo Day (WBD), and how it all started?
Good to speak to The neVibes. My greetings to all the readers on this 11th edition of the World Bamboo Day 2020 being celebrated across the globe!
During my tenure as the President of World Bamboo Organisation (WBO) from 2007-2010, I had the opportunity to organise the VIII World Bamboo Congress in Bangkok in 2009 with the support of Royal Thai Forest (RFD) Department of Royal Kingdom of Thailand. At that time, the idea of having an exclusive day dedicated to bamboo was planned and proposed by me. And we took the opportunity of getting Congress delegates from more than 100 countries and decided to declare 18th September as World Bamboo Day, which was endorsed by the participants from all nations. Incidentally, 18th September also happens to be the Royal Thai Forestry Day. So, on 18th September which was also the last day of the VIII World Bamboo Congress, myself as President of WBO, the Deputy Governor of Bangkok as representative of Royal Thai Govt. and Ms. Susanne Lucus, Executive Director of WBO along with participants declared the "World Bamboo Day" in 2009. The event was facilitated by the RFD and on 19th September, WBO and RFD organised a bamboo plantation nearby Bangkok at a Park by the representatives of all the countries to mark the event.
I would also like to mention my close friend and associate Mr. Sapol Boonsermsuk, Director of Royal Thai Forest, without his support it would not have been possible to get the support of Thai Govt. This event is now a global event being celebrated every year across the globe in most of the Bamboo Growing nations, even in the remotest corners of the world where bamboo grows. Rest is history and I am proud and happy to initiate this day with the support of WBO and RFD and my fellow bamboo friends globally.
What explains our insignificant share in the world bamboo trade despite 15.69 million hectares of land under bamboo cultivation in India?
India's bamboo resources cannot be called as cultivation but a natural growth mostly in forest and in natural habitat. Even the figures projected are from Forest Survey of India (FSI) sources means it's mostly from forest areas and natural stand. Even the data is very old one and we are still using these figures since last 10 years or more.
Only after 2007-08 after the commencement of the National Bamboo Mission of India by the Govt. of India, bamboo plantation has been initiated in 27 states of India both in Forest and Non-Forest areas. However, the outcome is not very promising till date. We are yet to see a successful model bamboo planation in India as the yield is about 2-3 tonnes per hectare whereas China's yield is more than 22 tonnes.
Bamboo cultivation in India is mostly in patches and not managed scientifically and systematically. Moreover, the quality of bamboo is neither good nor standard to use in good Industrial applications as it is mostly from forest or natural sources. As such the bamboo trade has been mostly handicrafts with high volume and low pricing. Industrial application is almost nil in absence of any large bamboo Industry in India except the Hindustan Paper and Newsprint Mills that were using almost 100% bamboo for making pulp and paper. Even they are now closed out of which 3 of them are located in Assam and Nagaland and others are in Kerala. Another big market for Bamboo is Agarbatti Sticks (Incense Sticks), which is also mostly imported from Vietnam or China by the Industries in India due to the reasons cited above. Bamboo Boards/Laminated Boards/Bamboo Wood and Bamboo Mat Board Industries have been established in many parts of India but most of them are struggling to survive due to several factors ranging from quality raw materials, market and skilled manpower, etc. Only traditional market and local consumptions, daily usages are the key market in India such as scaffoldings, rural housings, agriculture implements, etc.
The livelihood of 70 percent of Manipur's population is associated with the bamboo-based activities. What are the steps being taken to further popularise it?
I will not be able to comment on this as the Manipur State Bamboo Mission of the Forest Department, Handloom and Handicraft Department and Industries and Commerce Department of Govt. of Manipur are responsible to take steps and further popularise it.
Explain the significance of bamboo in the rural economy.
Bamboo in the rural economy is associated both culturally and traditionally right from the birth to death as such its importance is very significant. Most of the tribes and sub tribes are identified and known by the crafts they practice and the bamboo dwellings they live. Bamboo games and sports are one of the most important features of a village life in India. Bamboo as housing, shelter, fencing, food, medicine, basketry, granary, bridges, boats, market sheds, fodders are one of the key usages that is part of the rural economy.
What is the importance of bamboo in the world of furniture and construction materials?
Bamboo can replace any timber product in furniture or as construction materials, as timber takes more than 25 years to mature whereas bamboo takes 4-5 years to mature and harvest. It is considered to be green and sustainable, and provide more employment as well.
Do you believe that bamboo has the potential to help achieve the goal of doubling of farmers' incomes?
For me, it's too early to comment on this matter of bamboo having the potential to help achieve the goal of doubling of farmers' incomes since we have not yet developed the utilisation of bamboo in its value chain development, particularly in India. We need to still adopt the bamboo farming and value chain consumption of bamboo like successful model of Anji County in China or Than Hoa Province of Vietnam.
Only one percent of the bamboo grown in India is of industrial grade. What is stopping us from the industrial grade bamboo production?
Honestly, I don't consider that only one percent of the bamboo grown in India is of industrial grade as there is no organised plantation that can be of industrial use in the entire country. As mentioned above, the present bamboo resources are from natural stand or maximum from forest areas and cannot be used for Industrial application other than pulping for paper or local consumption like housing or scaffoldings, etc. We need to grow bamboo like tea, rubber, coffee, spices, coconut or any other commodity as plantation crop. Most important we need to focus on only 3-4 Bamboo species as commercial or industrial grade and that needs to be taken up in mass plantation on commercial scale to feed the industry.
Which are the steps that are imperative to realise the potential of bamboo?
It needs to be treated like any commodity not as produce of Forest or Non-Forest. With multi utility of bamboo from handicrafts, food to shelter, fibres, and other applications, bamboo needs to be taken up like a potential crop beneficial for farmers, processors and the industry associated with bamboo. We have good examples of Sugar Cane Industry, Assam's Small Tea growers' model, Tea Industry, AMUL model of Milk etc. where Industry model, Coop model has worked successfully and such models can also work for bamboo in India.
What are your expectations from the Government of India?
Govt. of India has been very active on bamboo policy and development. I was at the forefront of declaring Bamboo as Grass, and it was granted by an Act of the Parliament of India in 2017; my contribution was duly acknowledged in both the Houses of Parliament by Dr. Harsha Vardhan, former Minister of MoEF & CC Govt. of India. Also, another issue I have been campaigning is to increase the duty of Import of Bamboo sticks, which was decreased in 2011 when Late Shri Pranab Mukherjee was the Finance Minister. Recently, the Ministry of Commerce has increased the import duty from 10% to 20% so the local producers can benefit by making locally in India. Reviving livelihoods in the bamboo sector of the states will be a crucial factor post COVID-19. The pandemic has disturbed economic activities cutting across spheres whether it is small or large industries, MSME or cottage industries. And bamboo is one of them. A restructured plan is highly imperative where Ministry of Development of North Eastern Region (DoNER) and National Bamboo Mission of India have to play a key role by offering stimulus. Bamboo, still an informal sector, needs intervention with applicable Govt. support for the recovery to be quick. There is a need to harness the rich potential of bamboo and provide value addition in the value chain of bamboo. I am confident that Govt. of India can play a big role in making bamboo to contribute to the Plan of 'Atmanirbhar Bharat' and 'Atmanirbhar NorthEast'.
Lastly, the Govt. of India should consider setting up of a National Body for Bamboo like Tea Board, Coconut Development Board, Coir Board or Silk Board to look into the bamboo development from plantation, R&D, Product development and Marketing of bamboo at the earliest. The present system of the functioning of the National Bamboo Mission has failed to deliver both at central and state level except for few states in India. A unified body to harness the potential of bamboo as commodity is the need of the hour so we can rightly call bamboo as "Green Gold' or "Timber of 21st Century" or "Poor Man's Timber," etc.
Thank you very much for this opportunity!
For positive stories about Northeast India, follow The neVibes on Facebook, and Instagram