Exploring India's Northeast through Bollywood Lens
Some Bollywood films have been shot in the northeast India that beautifully captured the scenic locations and cultures of the region.
Mizoram is a visual delight
Till yesterday, India's northeast was the less explored part of India! However, with Bollywood making its entry into the region, maybe it's time to remove this 'unexplored' tag. Some films have been shot that beautifully captured the scenic locations and cultures of northeast region. Let us take you through these places.
Sikkim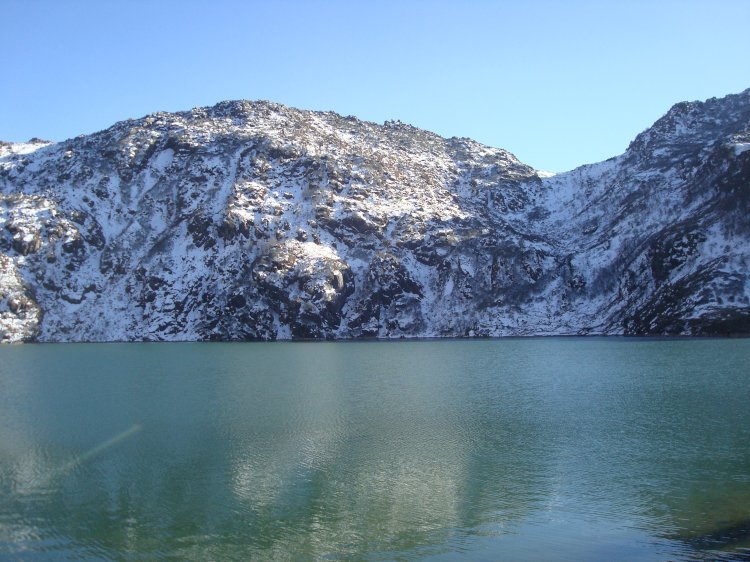 Image courtesy: Julia Sarungbam
Way back in 1967, Jewel Thief, a spy thriller movie starring legendary Dev Anand and Vyjantimmala was shot in Sikkim. Then, the state wasn't even a part of Northeast. The Lonely Planet, a global travel guide, had named Sikkim as the 'Best Region to Visit in 2014'; this bears testimony to the sheer magic of this enticing state. Blessed with natural landscape and unique culture, Sikkim is a small package of endless pristine beauty. It has so much to enthral its visitors. Gangtok, Yuksom, Tsomgo Lake, Nathula Pass, Pelling, Lachung, Ravangla, Rumtek Monastery, Namchi, Do-Drul Chorten, Yumthang Valley, and Gurudongmar are popular tourist attractions of the state.
Assam
In 1986, came Ek Pal directed by Kalpana Lajmi, starring Naseeruddin Shah, Farooq Shaikh and Shabana Azmi. The film was shot in Shillong and Jorhat in Assam. Jorhat is the second largest city of Assam. It was named after two bazaars ­- Chowkihat and Macharhat markets lying on the eastern and the western banks of the river Bhogdoi. The place also holds a significant role in the great history of Assam. It is the last Capital of the Ahom Kingdom.
Source: goibibo
Jorhat is one of the fastest developing cities of Assam, and is also known as 'The Cultural Capital of Assam', thanks to its varied cultures. With around 300 tea estates, Jorhat is also referred to as the 'Tea capital of India'. There are several prestigious institutes in the city including the first non-government college of Assam J B College, Tocklai Tea Research Institute, Rain Forest Research Institute, Central Muga Eri Research & Training Institute, and Assam Agricultural University. Hoollongapar Gibbon Sanctuary, Kakochang Waterfalls, Tocklai Tea Research Centre, Dhekiakhowa Barnamghar, Jorhat Science Centre & Planetarium, Bilvesvar Siva Temple, Sukapha Samannay Kshetra are some of the places worth paying a visit. Then there's Majuli Island, at a distance of about 20 km from Jorhat. Gymkhana Club of Jorhat is the oldest golf course in Asia and third oldest in the world.
Director Kalpana Lajmi, again came back to Assam to film Daman starring Raveena Tandon who played the character of Durga Saikia. Saikia is a family surname of Assam.
In 2015, Aisa Yeh Jahaan, directed by Biswajeet Bora with Palash Sen and Ira Dubey in lead roles was shot in the Golaghat district of Assam.
Nagaland
Image Credit: Julia Sarungbam
Saaya (2003), directed by Anurag Basu with John Abraham and Tara Sharma in the lead roles, was shot in Mokokchung district of Nagaland. Mokokchung is one of the most important urban areas of Nagaland. It is also the intellectual and cultural capital of Nagaland. Dominated by Ao community, the district is recognised as 'Land of Pioneers' as it has produced many achievers in various fields. It was one of the first Naga Hills centres where the Assam Rifles, led by Britishers, established their outposts in the 19th century. The popular tourist spots of the place include Unman village, the District Museum, the Ao village, the Town main park, and one can also explore Longkhum, Langpangkong, Mopungchukit and Chuchuyimlang in the district.
Mizoram
Image Courtesy: Dr. Gyanendra Konthoujam
Dansh (2005), a psychological thriller based on Mizo Nationalist Front agitation, was made by director Kanika Verma. The film starring Kay Kay Menon and Sonali Kulkarni was shot in Mizoram. Lush forests, serene lakes and cascading waterfalls, thick bamboo groves, exotic wildlife, Mizoram is a visual delight. The state shares its boundaries with Bangladesh and Myanmar. It is an ideal destination to get soaked in the nature. While in Mizoram, you can take a city tour of Aizawl and enjoy the enchanting views of the Tlwang river valley in the west and the Turial river valley in the east. To understand its colourful culture, one must visit Zarkwat museum. Solomon, located in Chawlhhmun locality of Aizawl, is a popular temple complex. Champai, about 150 km from Aizwal is another stopover. It is also known as 'The Fruit Bowl of Mizoram' for its vineyards. And some 70 km from Aizwal lies a small hamlet Baktawng, where the world's largest existing family reside. Pu Ziona lives here with his 39 wives, 94 children, 14 daughter-in-laws and 33 grandchildren. Tamdil Lake and Vantawang are other interesting places.
Arunachal Pradesh
In 1972, Yeh Gulistan Hamara, directed by Atma Ram featuring Dev Anand and Sharmila Tagore was shot in Arunachal Pradesh. The film depicts a tribal community living on the border with China.
Rakesh Roshan in 1997 brought Shah Rukh Khan and Madhuri Dixit in Arunachal Pradesh to shoot a song for the film Koyla. The popular song 'Tanhai Tanhai' was shot in the Shonga-tser Lake and Nuranang Falls in the Tawang district. And that's how this Shonga-tser Lake came to be known as Madhuri Lake.
Located at a distance of 42 km from Tawang, it is a heavenly lake. Shonga-tser Lake was a result of an earthquake that occurred in 1950. The entire lake area was grassland before the earthquake; dead trees sprouting out from the middle of the lake being the proof of it. Surrounded by scenic snow-clad mountains, waterfalls, and the valley, the lake is mesmerising.
Rangoon was another big banner film with a strong star cast. Kangana Ranaut, Shahid Kapoor, Saif Ali Khan and director Vishal Bharadwaj braved through the difficult terrain of Arunachal Pradesh to shoot the film set against the backdrop of World War II. The film was also shot in Dhemaji, Assam. A song sequence was shot at the Jonai railway station with Kangana Ranaut.
Source: Tawang.nic.in
Coming back to Arunachal Pradesh, 'The Land of the Rising Sun', the state is home to 26 indigenous tribes with each tribe having unique and vibrant culture, and a glorious heritage. Endowed generously by the Mother Nature with exquisite orchids, splendid valleys, roaring rivers and waterfalls, snow-decked mountain peaks, Arunachal Pradesh is a state with unparalleled magnificence. One must not miss the trip to the 400- year-old Tawang Monastery, the second largest monastery in Asia and the largest in India, Parasuramkund, Itanagar, Sela Lake, and Malinithan.
And also not to forget the Sela Pass, the high-altitude mountain pass, and the main way to access Tawang by road. Taktsang Gompa, Gorichen Peak, Nuranang Waterfalls, and Pankang Teng Tso Lake are other attractive destinations.
Meghalaya
Image Credit: Julia Sarungbam
After the release of Kurbaan (1991) starring Salman Khan and Ayesha Jhulka, Shillong became one of the favourite destinations for Bollywood. Some of the scenes were shot at Eastern Air Command Campus, Upper Shillong.
Rock On 2 featuring Farhan Akhtar, Arjun Rampal and Shraddha Kapoor was released in 2016. It was shot in the scenic Meghalaya - the 'Abode of Clouds'. The film beautifully captured the luxuriant green, the breezy weather, pine-fresh mountains, the winding roads and rolling hills, the tranquil river, and of course the Living Root Bridge. From the capital Shillong to Cherrapunjee, Mawlynnong to Dawki, Smit to Tura, the state will definitely pump up the adrenaline rush to any traveller.
With big directors gradually moving to the Northeast, it is a good sign for the region. Bollywood has a global reach, and it can help Northeast reach far and wide, and boosts its tourism potential. The Government on their part must ensure development in all sectors - safety, hospitality, better roads and communication to lure more filmmakers and visitors. Hopefully in near future, we will not see a film based in the northeast being shot somewhere else (read Mary Kom film).