Pushpita's - Homemade With Love! A Tale of Courage and Determination
Born in Silchar, Assam and brought up in Agartala, Tripura, her multicultural background does have a strong influence on her food products, making it exquisitely unique. thenevibes.com
Pushpita's - Homemade With Love! A Tale of Courage and Determination
Pushpita's - Homemade With Love! A Tale of Courage and Determination
When life throws challenges, some succumb while others overcome them. Pushpita Aheibam is one of those who fought back. Diagnosed with a terminal disease, she chose to defeat it by infusing positivity in her life rather than lamenting over it.

A doting mother to two adorable sons, a caring homemaker, a successful food blogger at Pushpita's Chakhum, freelance feature writer, and now a foodpreneur – a home-based gourmet food product developer running her own brand, Pushpita's, 38-year-old Pushpita moulds into these roles with perfection.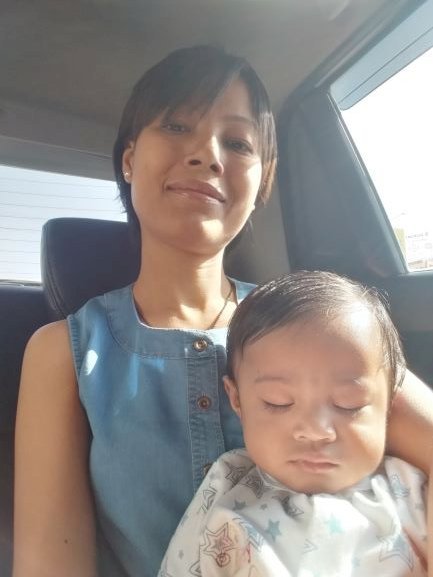 Pushpita with her son
Having born in Silchar, Assam and brought up in Agartala, Tripura, lived and travelled in several parts of the country, and now based in Pune, her multicultural background does have a strong influence on her food products, making it exquisitely unique. She gives a new zing to her food items including pickles, fresh fruit spreads, and edible infused oil by using seasonal organic veggies and adds no harmful artificial preservatives, colours and flavours, without losing its flavoursome and indigenous authentic taste.
The neVibes caught up with this incredible lady to know more about her journey into the culinary world, and her Pushpita's brand. Savour it!
You were having a different career. How did you get into the food world?
A Post Graduate in Economics, currently pursuing my second Master's degree in Population Studies from IIPS, Mumbai, I have quit the role of a Market Research and Sales Analyst way back in the year 2006 as my career had just started shining and instead took up the role of a homemaker. A collaboration opportunity as a freelance writer in 2013 got me into freelance writing. A personal food blog at the same time led to the role of an independent food writer, later contributing for online and print media publications. Cooking was already a ritual. Though I have a cook, special delicacies are always prepared by me.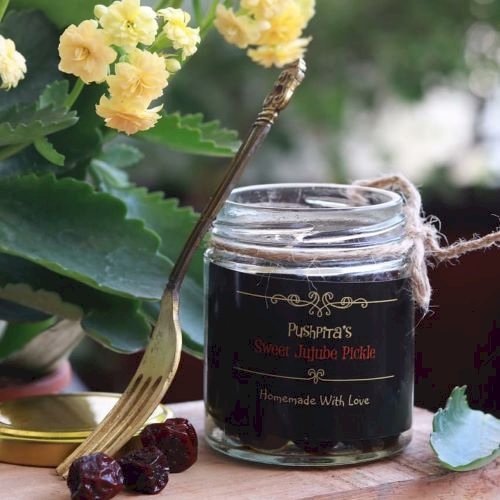 Fresh fruit spread
Who is your cooking inspiration?
My Baba, Ima (Mother), Nene (Paternal Aunty), Kakas (Paternal Uncles) are passionate cooking experts; they are my major source of inspiration.

When did you realise it's time for 'Pushpita's brand'? Tell us more about your maiden food venture.
Homemade seasonal pickles and fruit spreads are things that I have grown up relishing at home. Initially, it was pickles for personal consumption and gifting to close friends with the recipes shared long time back over the phone by Ima. Few pickle and spread samples to a close friend from Bhubaneshwar who also happens to be a renowned Odia food blogger and photographer for taste testing were appreciated, she pushed me into what you see today, coincidently she did the very first product shoot and shared on her social media profiles.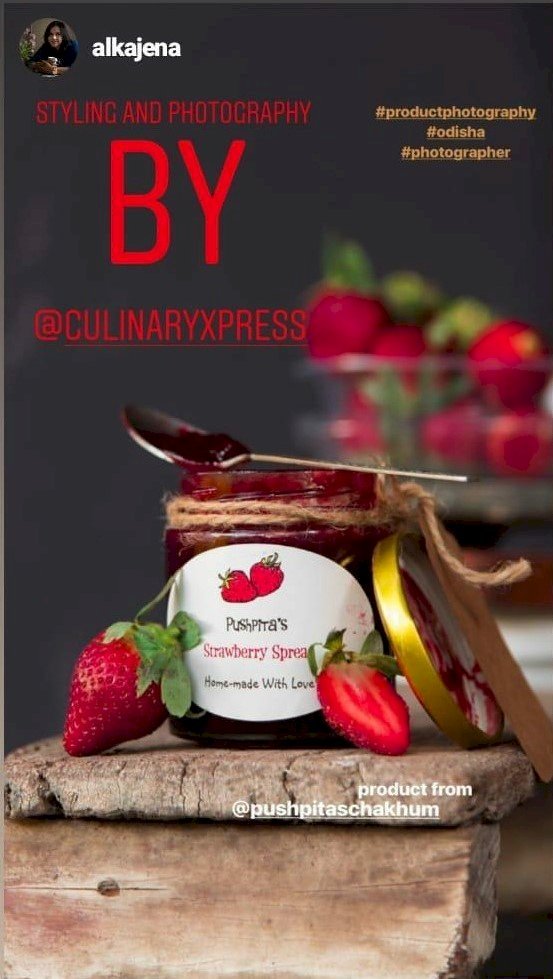 The food blogger who pushed her into what we see today
That is how the idea of this food product venture started in June 2017, continuing with my personal liking for homemade pickles, seasonal fruit spreads and edible infused oils. At present, it's a direct selling concept shipping within the local area as well as rest of India.
When did you realise Pushpita's going to click?
When I started getting more product enquiries from new customers slowly and steadily majorly through word of mouth of existing customers and my own social media profiles, I felt the products will be appreciated.
What differentiates your food products from others?
I have never compared my products with any of the existing brands, every brand has their own identity. The USP of my products is their recipes.
Pork pickle
You are a fighter, battling Stage 3 breast cancer. Would you like to talk about the tough time you went through?
The journey of life is a rollercoaster ride. I was diagnosed with breast cancer in September 2017 during the time my business started getting some exposure slowly through local and online media. It was the toughest battle of my life till date. With no extended family around at the time of diagnosis, the initial days before the treatment were the most challenging ones.
I had undergone 16 sessions of chemotherapy (4 neo adjuvant, and 12 adjuvant post-surgery), a lumpectomy/breast conservation surgery and 11 sessions of radiation/radio therapy treatment. I was carrying my younger son unknowingly (a year plus old healthy baby now) during my treatment (neo adjuvant chemotherapy, surgery and adjuvant chemotherapy). He was born on the 30th of May in the year 2018, 11 days prior to my radiation therapy. My parents, my husband, younger brother, my children, extended family and close friends have been my support system.
A little baby, and so many things happening around! How did you manage all?
I work when the little one is sleeping, and at normal days he enjoys watching me work in the kitchen as I hold him or sit him in his stroller.
Tell us about the expansion plan of Pushpita's.
I have plans to take my humble venture to the next level in the near future. Resellers and retailers have started showing interest in my products. I am working on increasing the shelf life of individual products at the same time, since the products are free from artificial preservatives.
A Tripuri dish
Would you like to share a cooking tip that will enhance the taste of the dish?
Use fresh seasonal and local produces in cooking. Simple delicacies with minimal ingredients are always the best.
An inspiring figure, we wish her all the success in her endeavour.
Haven't yet tried Pushpita's delicious food items that are 'Homemade With Love'? You can place your order on her Instagram handle and Facebook page.