Atmanirbhar Bharat! 18-yr-old Manipuri Lad Showcases Iconic Landmarks of Manipur through Bamboo Crafts
Pepping up to make a mark for himself in this bamboo craft business is Tolhan, 18-year-old lad, whose first two bamboo creations of of Ima Keithel and Sanamahi Kiyong show a sign of his dexterous hands. thenevibes.com
Bamboo creations of of Ima Keithel and Sanamahi Kiyong by Tolhan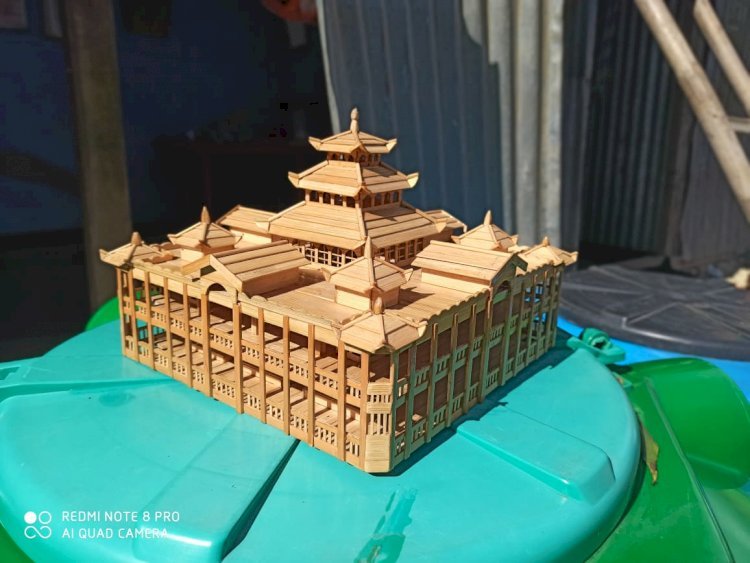 Atmanirbhar Bharat! 18-yr-old Manipuri Lad Showcases Iconic Landmarks of Manipur through Bamboo Crafts
The Northeast region is home to 67% of India's reserve of bamboo, and is crucial for the economic growth. The giant grass has enhanced the livelihood opportunities for the people. Over the years, we have seen dynamic entrepreneurs opting bamboo to produce sustainable and eco-friendly unique products, and running their businesses successfully.
Pepping up to make a mark for himself in this bamboo craft business is Tolhan, 18-year-old lad, whose first two bamboo creations of of Ima Keithel and Sanamahi Kiyong show a sign of his dexterous hands; talent does nurture on its own!
Tolhan is his moniker; his real name is Pukhrambam Shyamcharan Singh, and he hails from Nambol in Bishnupur district, Manipur.
For the uninitiated, Ima Keithel (Mother's Market) located in Imphal, is more than 500-year-old market, run and managed entirely by as many as 5000 women, making it the largest and one-of-a-kind all women's market in Asia.
The Sanamahi Kiyong Temple at Nongmaijing Hills, Imphal East is the abode of Lainingthou Sanamahi, the ancient deity of the Meitei. It is the centre for the followers of Sanamahism in Manipur.
No Training, Only Dedication
After attending his college, coaching, and household works, Tolhan would dedicate almost 3 hours daily to create these bamboo crafts. He started his craftsmanship without any formal training. His uncle had earlier practiced bamboo craft and made various handicraft products. Tolhan would stealthily observe how his uncle used to craft, but he didn't receive any training.
The Sanamahi Kiyong Temple
Gradually that interest drives into passion, and after almost two years of keen observation, he started crafting bamboo works whenever he got time. He started making Eiffel Tower, Kangla Gate and other small stuffs, which he has gifted to friends.
Tolhan's mother Pukhrambam Memcha has been his support system; she provides money to buy bamboo and the necessary tool kits. She sells fresh greens and vegetables in the Nambol Market, and is the only bread earner in the family. His father (Pukhrambam Shamu) earlier worked as a wood cutter in the hills, but couldn't continue longer due to his old age. Tolhan works occasionally in a catering firm based in Imphal during peak wedding season or any official party or gatherings.
"I would visit Ima Keithel daily after my coaching class, observe carefully and click pictures of the portions I wasn't sure of. It took me 3 months to complete Ima Keithel. The Sanamahi Kiyong Temple was created from the pictures available on the Internet," Tolhan told The neVibes.
Chasing Dream
When he first posted picture of the temple on Facebook, many people contacted him to purchase but he didn't want to sell off. "Being my first creations of these iconic structures, these are quite close to me and I want to preserve them at home for memory. I told them to contact me again next year when I plan to start commercially. They took it warmly, and say they would be happy to buy whenever you start," he said.
Ima Keithel
At such a young age, Tolhan is focused and quite clear of what he wants to do in life. Making the best use of his skilful hands, he plans to commercially start his bamboo crafts venture from next year. He desires to showcase many other beautiful iconic landmarks of Manipur through his venture.
Financial constraint is a hindrance to his ambition, but he is determined to make the start early next year, using this period to further enhance his skill. He cleared his Class 12 Manipur Board Exams in 2020, and intends to study further. At the same time, he seems charged up for his venture.
Tolhan's latest project is Manipur State Assembly, which he has completed in early January 2021.
Wishing him the best for all his endeavours!
Have an interesting story to share? We will love to do it, contact us editor@thenevibes.com. Let's connect on Facebook and Instagram