No Physics Teacher in Govt School for 5 years! Ruhi Danish Ashraf, IAS officer's wife, fills the void
Ruhi has an important message to give 'Beti Bachao, Beti Padhao, Beti ko Kaam pe lagao', which is rightly the need of the hour. thenevibes.com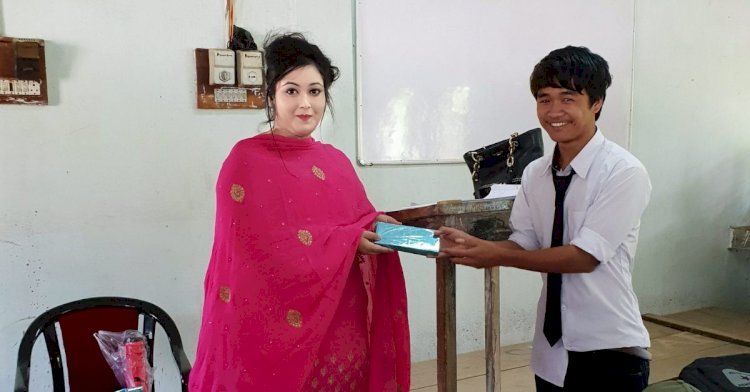 No Physics Teacher in Govt School for 5 years, Ruhi Danish Ashraf, IAS officer's wife, fills the void
No Physics Teacher in Govt School for 5 years, Ruhi Danish Ashraf, IAS officer's wife, fills the void
For the past five years, the students of 12th grade in Government Higher Secondary School in Daporijo, the district headquarter of Upper Subansiri in Arunachal Pradesh, were left to decide their fate themselves. The school did not have a Physics teacher for over five years. And it's a reality bite; most of the government schools in the remotest part of the country are in a dilapidated condition with no basic infrastructure and teachers.
In 2016, when Ruhi Danish Ashraf moved along with her husband Danish Ashraf, an IAS officer who took charge as the District Magistrate of Upper Subansiri in Arunachal Pradesh, it was like manna from heaven. An electronics engineer herself, she took upon herself to teach the students for free. She put her heart and soul in teaching them and the result was there – in March 2019, 80 percent of her students in Class 12 passed the Physics subject, a surge from only 21 percent in the previous year.
With no prior teaching experience, Ruhi helped turned around the fortune of these students, and the school. How did she do it? Let's hear it from Ruhi as she speaks to The neVibes about her teaching method, students, Arunachal Pradesh, and more.
First of all, congrats! Tell us what led to the beginning of your association with the noble cause of teaching.

A need encourages creative efforts to meet the need or solve the problem. The need of Physics teacher in the school and the plight of science students made me join the school, the situation was very difficult and distressing in the Goverment school where no Physics teacher was available since the last five years.
Talking about my school days, suppose if I skipped one lecture it was hard for me to understand the next lecture, when I had all sort of facilities available near me, imagine the condition of those students who didn't have teacher since years.
Moreover the place is very remote, only good education can make students compete in this competitive word. Pondering on all these factors made me associate myself with teaching.

80% students passed in Physics after Ruhi became the teacher.
Take us through your initial days given the fact that you had no prior experience as a teacher.

Initial days were tough as many people suggested me to not join the school as the children there were notorious brats, also they told me that they are not respectful, so there was a fear inside me but then I thought I shouldn't pay attention to the rumour mongers and check for myself. To my utter surprise the children were too good, obedient, very respectful, very keen and very pure they always had this curiosity to learn something new every day.
I remember on first day of my class, I was explaining a derivation, and they were not able to see the white board completely as the board was hanged at lower level they asked me to do somethingm m about it, and in return I said that you do something yourself, the very next day students themselves made a wooden platform using old discarded benches and hanged the board at higher level... this gesture touched my heart and I realised how much they needed a teacher. That day I decided to give my heart and soul for their better result.
Ruhi's students

What is your teaching method that has led to the pass percentage rising from 21 to 80?

Mostly students study from reference books and don't read NCERTs, I had a firm belief that to score good, one must read NCERT books also, you can refer other books time to time but should finish NCERT books. As students find language of NCERT books quite tough they give up on them and study from other books, to explain NCERT was in my to do list, I also distributed NCERT Physics books to all students who didn't have the books ( yes many of them didn't even have the books).
Apart from that I conducted regular tests, re-tests and to lure students I announced some prizes for top scorers. This developed a competitive spirit among the students and being an Electronics Engineer I have an affinity towards digital mediums of studies, I feel fun filled animations and mnemonics plays an important role in remembering the information.

What was the first thought that crossed your mind when your husband, IAS officer Mr. Danish Ashraf asked you to step into the shoes of a Physics teacher?

I have always seen my husband working for people and I didn't have many chances to work for people, when he asked me to step in I was so delighted and happy, I thought finally I got a chance to give back to the society that gave me the opportunity to be an engineer today; it was my time now to give something back to the society.

Do you intend to take teaching as a full time profession?

Yes, if I get more opportunities
To lure students, Ruhi announced some prizes for top scorers.

In your opinion, which are the steps that are pertinent to ensure quality education in the remote parts of India?

I would like to Quote Plato from 'The Republic'. This always inspired me since college days and I tried to implement it, this holds true not only in remote parts of India but every part of India.
That's what education should be, "the art of orientation. Educators should devise the simplest and most effective methods of turning minds around."
"Knowledge which is acquired under compulsion has no hold on the mind. Therefore do not use compulsion, but let education be a sort of amusement; you will then be better able to discover the child's natural bent."
Specifically talking about remote areas, I feel that physical isolation of children from their peers in urban areas should be minimised by providing better internet facilities so they always remain up to date.
Better infrastructure and educational materials for the classroom should be provided timely and in abundance. People having passion for teaching should be employed.
I read a report once about :
The 'school vs. supporting family' dilemma
Which is common in rural India , have closely seen many people (including my maid) who dropped out of the school for supporting their families, the first step to improving students' education is to physically get them to school in the first place. For many countries, particularly in rural areas, a number of children drop out at the end of primary school to help support their families.
To reduce the drop-out rates from this, Mexico came up with Progresa (now renamed Prospera), a conditional cash transfer initiative. The programme provides a fixed monetary transfer to families if their children attend at least 85% of school days, and receive regular health check-ups. The amount of aid increases as children age to match the rising opportunity cost of income if they were working instead of being in school.
The programme increased school retention rates by an average of 3.5%; the effect is especially significant between the last years of primary school and the early years of secondary. Other countries, such as Brazil and Cambodia, have since adopted the conditional cash transfer model. I believe such initiatives should be taken in India also. I am a big fan of mid-day meal scheme which provides nutrition to growing children.
Ruhi with her husband Danish Ashraf
What/who is your biggest motivation?

The interest which I received from the students was my biggest motivation, the smile on their faces is the biggest reward. Apart from that my husband Danish Ashraf Sahab inspires me the most. I have seen him burning candle at both the ends and working extremely hard in harsh conditions, he never gives up on anything and he is too kind to everyone, he possesses both a love of knowledge, as well as intelligence, reliability, and a willingness to live a simple life. Looking at him I think when he can do so much why can't I...watching him work is my biggest motivation.

What did you like about Upper Subansiri district and Arunachal Pradesh?

A lot! I always mention it, people of Upper Subansiri always wear an 'ear to ear' smile on their faces, although they are deprived, still they always remain happy and smiling, seeing them, even a big smile spreads on your face too, they always radiate joy no matter how tough the situation is, optimism is something everyone needs to learn from the people of Upper Subansiri.
Apart from that pristine nature, organic food, and healthy lifestyle is something I like the most about them! And how can I not mention the rich culture Arunachal has, and handicraft is excellent, I am a big time collector of Arunachal Handicrafts.

Have you been to other parts of Northeast India?

I have been to Assam a number of times. Other parts are in my travel list.

Any last thoughts...

Want to request educated people and housewives to take up voluntary teaching or any other social activity in free time so that our country can progress and also the students will get various teachers from different fields. Education is the key to a just and virtuous society.
As a society, perhaps our focus has been more on educating girls than on helping them become productive members of the country's workforce, more and more of our educated girls seem to be growing up to be overqualified housewives. I believe a tectonic shift is required from Beti Bachao, Beti Padhao to Beti Bachao, Beti Padhao, Beti ko Kaam pe lagao. So, to start with if every housewife chooses one social cause of her interest and spends at least one hour a day for that cause, our country will change for better. And also the morale of that housewife will get a boost and will give her a respectable place in society where housewives do not enjoy same amount of respect as working women do.

Ruhi has an important message to give 'Beti Bachao, Beti Padhao, Beti ko Kaam pe lagao', which is rightly the need of the hour. We wish her and her enthusiastic students all the success in their endeavours.