How the 'Young Guardians of Manipur' are Guarding the Poor Ones, Literally!
The members believe in 'Change begins from self' and they are working with dedication to build a better Manipur. thenevibes.com
The Young Guardians of Manipur guarding the poor ones.
How the 'Young Guardians of Manipur' are Guarding the Poor Ones, Literally!
Seeing 3-year-old Thaja playing, laughing and running around happily with her friends is the biggest satisfaction and joy one would ever feel. A few years back, Thounaojam Thaja of Kakwa Huidrom Leikai in Manipur was going through a dark phase at such an early age. She was diagnosed with Congenital Heart Disease, Patent Ductus Arteriosus (PDA) when she was only 2-month-old. Her father Th. Mangi, a newspaper hawker earning only Rs. 1,000 per month, and her mother Th. Inaocha, a seamstress, found it difficult to afford her medical treatment, and fed their 3 children with the meagre income. So, they discontinued her treatment.
Good deed, indeed!
The team that gave Thaja a new lease of life
When the Young Guardians of Manipur came to know of their plight, they rushed to help the family. From providing financial aid to meeting concerned doctors and persons, this young group helped in giving a new lease of life to Thaja. The little girl's surgery for PDA Closure was performed successfully under the Rastriya Bal Swasthya Karyakram (RBSK) and Mother's Heart Scheme by Mother's Care Children Hospital and Research Centre at Imphal Heart Institute, Sagolband, Imphal. Today, Thaja is fully enjoying her life.
In another case, abok (grandmother) Ibempishak of Leimakhong, Manipur expressed her desire to have a proper latrine for her 3 grandchildren while she's alive. When the group met abok, she was 85-year-old and working. She knew that she could not afford to take rest; else her 3 little grandchildren would go hungry. She worked as a rag picker; from selling the collected items, she earned about Rs. 30 in a day. And when lucky, she earned Rs. 50 a day.
YGM handing over the sanitary toilet to Abok
Life is tough, and more so for one who is shrouded by poverty. Most of the food storage containers at abok's kitchen were empty. There was no water supply and no plumbing for a toilet; the latrine was open and dangerously unhygienic. The youth took it upon themselves to get this one done for abok despite having no funds. With a mission in hand, they started a fundraiser campaign online that received tremendous response, and they raised more than Rs. 2.5 lakh to their utter surprise. From the money raised, they built a hygienic toilet, and saved whatever left to help others who need their support.
The little girl Thaja and abok Ibempishak are not the only beneficiaries of the youth's selfless service. There's homeless abok Moirang Huidrom (72 years) from Wangjing Khunou, Manipur for whom this group has built a shelter.
A shelter constructed for the homeless grandma
They also have organised flood relief camp at Thoubal where they distributed rice bags, drinking water and other essential commodities to more than 400 families. They are supporting students from poor economic background by giving scholarships. These students also offered their thanksgiving to YGM by getting good results. Among the many students they are supporting, a boy and a girl appeared for Manipur Board Matric Exam 2019. The boy scored 81% and the girl scored 69%.
In fact, there are countless and mentioning each one of them would be a monumental task for us.
What is Young Guardians of Manipur?
Young Guardians of Manipur (YGM) is an organisation of a group of like-minded youths who want to lend a helping hand to someone in need. The organisation works for the downtrodden, the helpless ones. The members believe in 'Change begins from self' and they are working with dedication to build a better Manipur. In short, YGM is all about a better Manipur, a better society to live in.
How it came into being
It was that one yearly trip to home that changed everything for him. Mahesh Ningthoujam, the founder of this group, shares with The neVibes about how it all began, "I have always wanted to contribute my part for the development of our society. Seeing helpless people always make me emotional. When I went home for vacation in May 2016, I wanted to spend my leisure time doing something good, so I thought I would visit an old age home or a children home. I found an orphanage named Tabitha online. I didn't have enough resources to give any meaningful help to an orphanage which has more than 20 kids."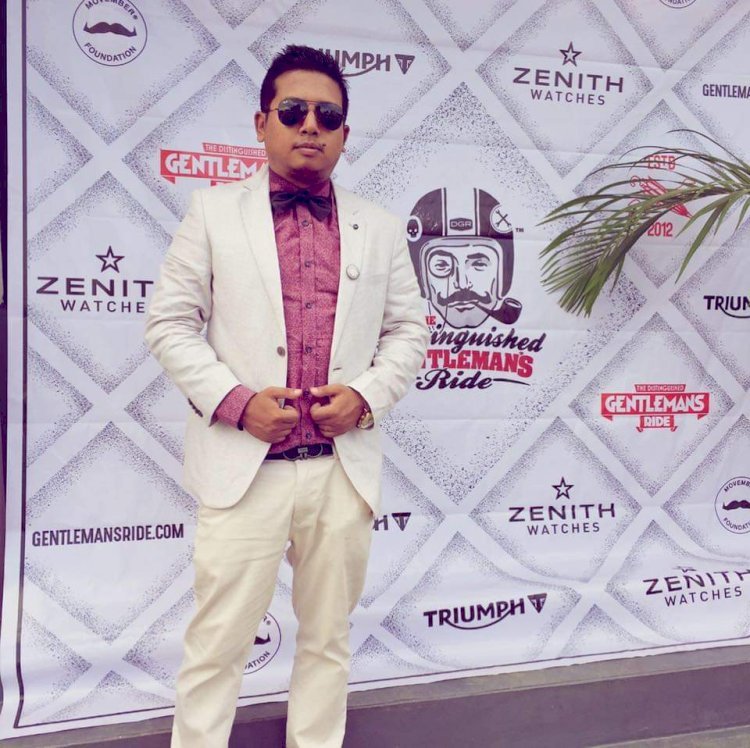 Mahesh Ningthoujam, the founder of Young Guardians of Manipur
"I was lucky to get support from my cousin Gunachandra Ningthoujam's friends. Guna and another friend Nanaoton Mangang have been my supporting pillars in everything I do. They joined me on my visit and also contributed Rs. 100 each. I was able to collect Rs. 4000, most of the contributions coming from my family. With the collected money, we bought some useful stuff. I felt so happy to see the cute smiles of these children. It was one of the happiest moments of my life. I felt so proud with the thought that I was doing something for my society," he says.
"On the way back home, we stopped for coffee. While sipping coffee, I suggested that we should form a group and help our society in every possible way, and all agreed to the idea. So, we created a WhatsApp group and named our group as 'Young Guardians of Manipur'. We decided to meet regularly and set up rules and regulations for our group. In our first meeting, we come up with the idea of contributing Rs. 100 every month. In the meantime, some new members started joining us seeing our work on our Facebook page. It started growing bigger with every project."
Entry to YGM is not easy
The spirited YGM team
A group that was started with a few friends discussing on WhatsApp on how to help the poor, is now a full-fledged non-profit organisation with 35 members. However, being a member of this organisation is not at all easy. Fearing they may lose their identity and purpose of the group if they allow any random person, Mahesh and his team go for proper background checks and test their seriousness and commitment before letting anyone in.
"We always look for genuine members while recruiting, someone who really want to work selflessly for our society, for the poor. Though, many have requested to be members of our organisation, we recruit only 4-5 new members per year. To be a member of YGM, one has to work as a volunteer in our programs actively for 3 months, and if we are satisfied with one's dedication, we accept him or her as a part of our family."
Struggle against the many challenges
It's a strange thing we often see in our society that if one wants to contribute something good, there will be many around you who will pull you down and discourage. Mahesh too, had its share of bitter pill to swallow but he adopted 'ignoring is the best policy'.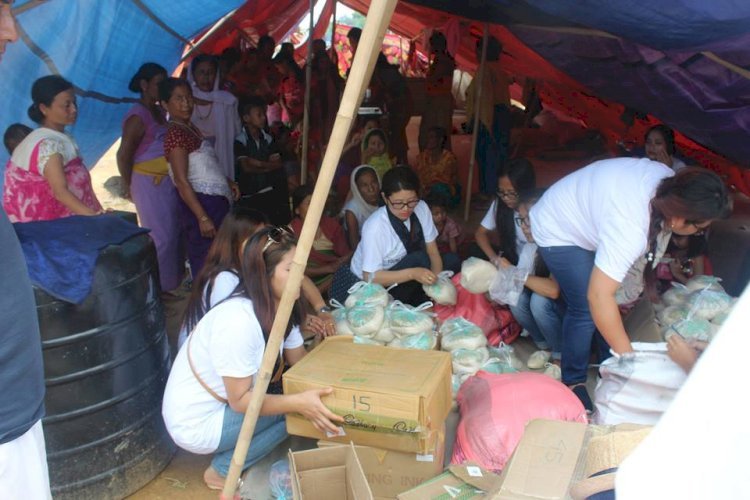 Flood relief camp at Thoubal
"People mocked at me a lot in the beginning when YGM started. They would say, 'You don't even have a source of income for yourself. Try to get a government job first, only than you help others'. It was disheartening but thinking about the sufferings that people have to undergo due to poverty, it motivates me to ignore them."
He also asserts on the other challenges that the team is facing.
"Most of our members are students, so time factor is a major issue," he adds.
It is well understood as they have to attend classes, study and at the same time spare a few hours to this noble cause.
Lack of finance is another challenge that the team is facing. As most of the members are students, they find it difficult to contribute money every month. Moreover, they do not get any funding from government, corporates, or any agency. So, it is mostly with the contribution from their pockets, the little funds they generate through crowdfunding, and some individual donations from good samaritans, that they are able to provide help.
"Money has always been the issue whenever we take up any project. But lack of funds will never demotivate us in our work for a better society, a better Manipur," says Mahesh.
The Unstoppable young brigades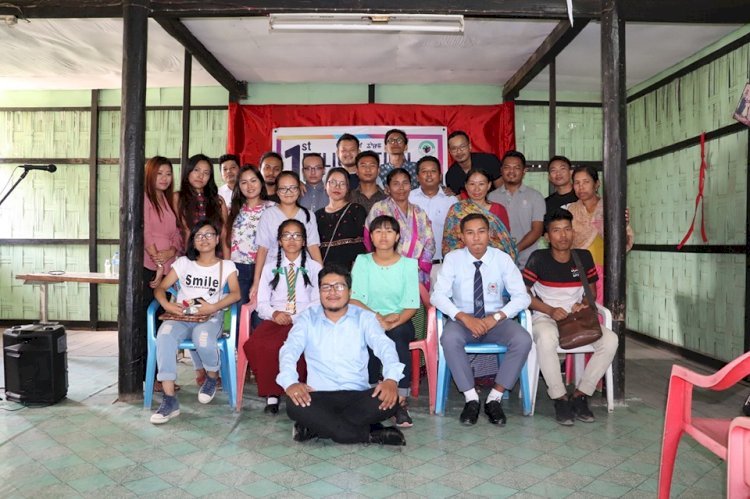 YGM felicitated the meritorious students of 2019
The organisation has accomplished several challenging projects ever since it started in 2016. And at present, they are working on two new ambitious projects. One is donating library to a few private schools that are financially struggling, but care to provide good education to their students. The YGM is collecting unused books from individual donors to help set up the library.
While in another project, they are planning to install eco-friendly dustbins at popular picnic spots of Manipur, and organise a clean environment awareness campaign. They also plan to take up the initiative of cleaning the Imphal city area on a regular basis.
They are inundated with calls seeking for their help and lack of funds is a hindrance. Yet, this spirited group is managing to help those reeling under the poverty line, and are also charting out ways on how these families can sustain a livelihood. While the Young Guardians of Manipur will continue with their selfless work, Mahesh urges people with good heart, who are looking for a platform to do something good for the society, to join hands with them and make a better Manipur and a better world.
He ends with "Yaiphare, Yaiphare (all is well, all is well)." Well, they say for poor and needy, there's god but we believe these beneficiaries will like to change it to 'for poor and needy, there's Young Guardians of Manipur.' We do sing the same tune, 'Yaiphare, Yaiphare.'
Have a look at here for all the wonderful works they have done.