Northeast Winter Calling! Impressive Line-up of Upcoming Festivals
With sounds of drums and folk musical instruments, people draped in colourful traditional attires, and gaiety engulfing the air, visiting the northeast India in winter should be in your bucket list. thenevibes.com
Impressive Line-up of Upcoming Festivals in Northeast India.
Northeast Winter Calling! Impressive Line-up of Upcoming Festivals
When it comes to experiencing some of the most amazing and never-to-be forgotten festive moments, head straight to the Northeast India. Every winter, the region wears a new look. With sounds of drums and folk musical instruments, people draped in colourful traditional attires, and gaiety engulfing the air, visiting this part of India in winter should be in your bucket list.
We have listed down some thrilling winter festivals which you shouldn't miss:
India International Cherry Blossom Festival-2019
Source: Facebook/India International Cherry Blossom Festival-2019
One can enjoy fashion shows, rock concerts, beauty pageant and even compete in an amateur Golf Tournament during Shillong's 4th India International Cherry Blossom Festival. Alongside, there will be stalls showcasing the region's food, wine and crafts. You are in for more fun and frolic as Meghalaya has partnered with South Korea, and there will be several K-events including a K-Pop concert, K-taekwondo, K-cuisine stall and exhibits on opportunities of education in South Korea, in collaboration with the Korean Cultural Centre India.
Venue: Shillong, Meghalaya
Schedule: November 13-16, 2019
Sangai Festival 2019
Decked up with colourful flags and brightest lights, Imphal, the capital of Manipur, comes alive as one of the most happening cities during the Sangai Festival. The festival is coined after the endangered species of the state, Brow-Antlered Deer, known as Sangai in local parlance. It is an annual mega event celebrated from 21st to 30th of November with Hapta Kangjeibung in Imphal being the main venue. The other venues are Moirang and Lamboi Khongnangkhong.
Organised by the Tourism Department of Manipur Government, the festival showcases the multicultural diversities of the region through its traditional dance, music, indigenous sports, handlooms and handicrafts, food, traditional houses and costumes. Performers and traders from different parts of India and the neighbouring countries such as Myanmar, Thailand, and China, participate wholeheartedly in this festival. While fashion shows and rock shows add to the glamour quotient of this 10-day carnival, Manipur as an Adventure Tourism Destination is well represented by the elaborate adventure sports arrangement. People can enjoy rock climbing, kayaking, trekking, water sports, boat race and paragliding. It also serves as a shopping destination. Various stalls are erected exhibiting local handloom and handicraft products, decorative items, artefacts, clothing and more.
Venue: Imphal
Schedule: November 21-30, 2019
Hornbill Festival, Nagaland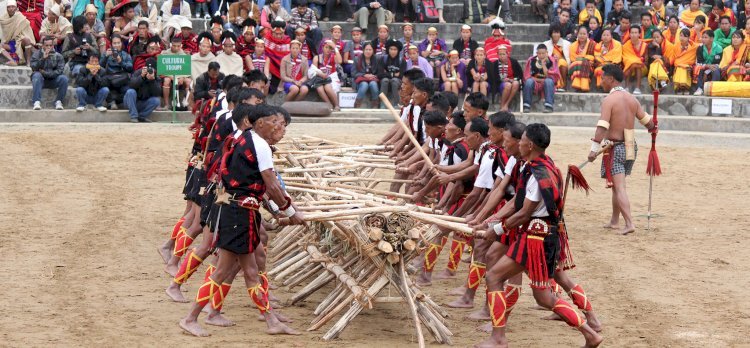 Souce: Nagaland Tourism
Also known as the 'Festival of Festivals,' it is organised by the State Tourism and Art & Culture Departments of Nagaland. The festival is named after the bird – Hornbill, which has its presence in the legends of Naga history. It is held at Naga Heritage Village, Kisama which is about 12 km from Kohima. The village is an open-air museum housing Bamboo Heritage Hall, full-sized log drums, World War II Museum, Bamboo Pavilion, Naga Idols, Horti-Scape, Stadium for Live concerts, and much more. This biggest annual festival of Nagaland is celebrated for about 10 days, and is aimed at reviving and protecting the rich culture of Nagaland. Songs, dances, Nagas' authentic food, rice beer, sports, kids' carnival, Naga beauties taking part in the Beauty Pageant, Naga tribes in their traditional attires exhibiting hunting and warring skills, unique pork and chilli eating competitions, and shopping from the night bazaar are the highlights of the festival. Music also forms a core part of the celebration.
Venue: Naga Heritage Village, Kisama
Schedule: December 1-10, 2019
North East Eco Tourism and Cultural Festival
Source: Facebook/North East Eco Tourism and Cultural Festival
Bird Watching, Sight Seeing, Ethnic Food, Silent Walk, Rock Show, Trekking, Fishing are the highlights of this festival.
Venue: Dibrugarh, Assam
Schedule: December 4-8, 2019
Namsoong (losoong) Festival, Sikkim
Source: India-tours
Namsoong festival celebrates the beginning of the new year of the Lepcha Tribe by showcasing folk dances, traditional indigenous games, and native Sikkimese (Lepcha) cuisine. It is celebrated every year at the meeting point of rivers Teesta and Tholung Chu in Upper Dzongu region of Northern region of Sikkim.
Venue: Sikkim
Schedule: December 8-12, 2019
Orange Festival of Adventure and Music
Source: Telegraph India
The festival has an impressive lineup of bands and an array of sports to keep your adrenaline racing! Dambuk, the valley of orange orchards, is nestled in the beautiful hills of Arunachal Pradesh and has some of the most mesmerising sceneries. American metallers P.O.D. will make their India debut in this festival. Also catch Californian rock band Flipsyde, reggae act Big Mountain, and Indonesian indie rock group Ping Pong performing LIVE in Dambuk.
Venue: Dambuk, Arunachal Pradesh
Schedule: December 12-15, 2019
Mangan Music Festival
Source: Youtube/Tenzing Sherpa
Mangan is a three-day music festival where bands from Sikkim and other northeastern states entertain the huge crowd and compete for the main prize. In addition to this, there will be an exhibition cum sale of local handicrafts, a presentation of traditional cultural songs and dances, and a food festival.
Venue: Mangan, North Sikkim
Schedule: December 12-14, 2019
Soak in the warm sunlight, bonfire in the night, music and festive mood all around, and explore the northeast region and its beautiful festivals to the hilt.
Watch out for this space for more festivals updates.
Compilation by Nirupama Takhelchangbam