At 86, This Young 'Abok' from Manipur Is Giving Us Some Major Entrepreneurial Goals
Abok Hanjabam Radhe Devi is a perfect example of what financial independent and woman entrepreneur is all about. thenevibes.com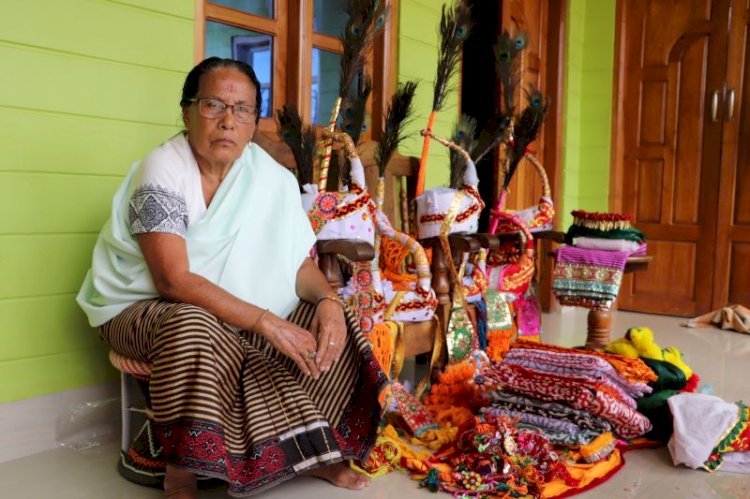 The entrepreneur Abok Radhe proves age is just a number. Image Credit: Khundrakpam Joychandra
At 86, This Young 'Abok' from Manipur Is Giving Us Some Major Entrepreneurial Goals
Aldous Huxley, the famous English writer and philosopher once said,

"

The secret of genius is to carry the spirit of the child into old age, which means never losing your enthusiasm."
We believe it's the strong enthusiasm that's keeping Abok (grandmother) Radhe going; streaks of gray in her black-dyed hair and wrinkled lines on her face suggest that she is an octogenarian. She reveals, "I am 86-year-old." However, her energy, attitude, and the impeccable talent that she is equipped with can give the younger generations a run for their money.
Hanjabam (ongbi) Radhe Devi, wife of (late) Hanjabam Mani Sharma lives in Wangjing Sorokhaibam Leikai, in Thoubal district of Manipur. A versatile grandma, Abok Radhe is a professional Potloi Setpi; in modern term, you can call her Manipuri bridal wear designer. She is also an active social worker.
How it all began
Abok Radhe showed her interests in 'Potloi Setpi' profession quite early in her married life. She learnt the art of Potloi desiging from her sister when she was around 25-year-old. Along with her sister, she started going out to dress up the brides Potloi for the wedding events. At 35, her sister inspired her to set up her own business. She sharpened her Potloi designing skills under her second teacher Khurailakpam Iboton Sharma, and started making the bridal costume.
The unique bridal wear, Potloi
Potloi and its accessories
Potloi is a sacred wedding costume of the Hindu Meitei's woman of Manipur. Meitei is a community of Manipur. Potloi was initially introduced in Manipur by Maharaj Bhagyachandra (1769-1798) for Ras-Leela dance (classical dance of Manipur). Later, it was used as a bridal wear for the Hindu-Meitei wedding. This unique bridal wear of Manipur is cylindrical in shape; it is like a stiff skirt attached to the blouse worn by the bride, and a belt is woven around the waist. The shape is made by rubber sheet and cane, and covered with velvet fabrics. The fabric is embellished with many shining metals such as mirrors, stones, brass etc. Potloi is usually bright in colours such as pink, red, green etc but for wedding it is mostly red. The hair of bride is designed to fit in a tiara, and then a beautifully designed thin white cloth is attached towards the upper portion of Potloi. The wedding Potloi is stiffer than Ras-Leela's Potloi. For Ras-Leela, it is designed in such a way that the performer wearing it could move freely and bend while dancing.
The entrepreneur Abok
Khamba-Thoibi dresses for Lei Haraoba
Women empowerment and entrepreneur may be the buzz of the recent times. But, the emas (mothers) of Manipur were into these in a big way since ages. Visit any local market in Manipur and you will see the biggest inspirations and examples of women empowerment, women entrepreneurs, and financial-independent women.
Abok Radhe is a perfect example of what financial independent and woman entrepreneur is all about. Her business helps her eke out a living to support the family.
During the peak wedding season, she earns around INR 10, 000 to 15, 000 per wedding per Potloi in a day. A financially independent woman, she is assisted by her daughter-in-law and granddaughter. And on off-season, she makes the gorgeous Manipuri dolls, crowns and garlands for idols, Khamba-Thoibi costumes.
For the uninitiated, Khamba-Thoibi is a popular legend of Manipur. It is an epic love story between a beautiful princess name Thoibi, and an orphan boy name Khamba. During the festival of Lai-Haraoba, the Khamba-Thoibi dance is performed. Khamba-Thoibi dance is a duet of male and female partners, a dance of dedication to the sylvan deity, Thangjing of Moirang. Radhe Devi is an expert designer of Khamba-Thoibi costumes including Khamba's headdress Shamjin and Thoibi's headdress Kajenglei.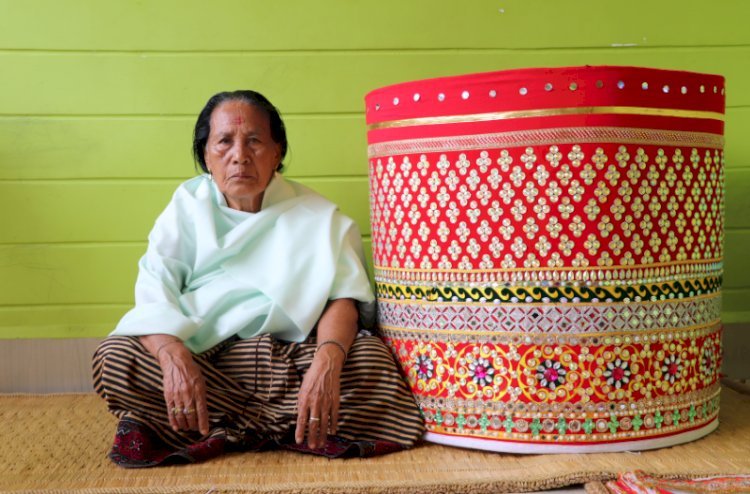 Radhe Devi and her potloi
Speaking to The neVibes, she says, "If you compare today's time and yesteryears, there's a bit of difference in Potloi dressing. Some years back, we used to perform certain rituals before dressing up the bride. But, in today's time, hardly anyone performs the rituals."
"We perform those rituals as per the family. If the family wants to hurry, we avoid, and if the family knows about these rituals and wanted to be performed, we do as per their wish," she adds.
She has won several accolades and recognitions at the local and state level for her doll making craft, and showcasing the rich culture and tradition of Manipur through her crafts.
Strong persona
Abok Radhe Devi is a woman of strong persona and an eloquent speaker. Besides being an entrepreneur, she plays a keen role in the social activity. She is an active social worker, currently serving as secretary of a women association, Nupi Apunba Lup, Wangjing, Thoubal, and also an advisor of Ukalpan Wangjing, Thoubal.
Radhe Devi wants her daughter-in-law and granddaughter to carry forward her legacy, and she has already involved them in her profession. Also, Abok provides training to the interested lots in her locality.
Ditching the notions people have about old age, Abok Radhe is an inspiration to young and old alike who are struggling to make a place in the race of start-ups. When you have the cocktails of passion, creativity, and enthusiasm, age is not a barrier.
Have an interesting story to share? We will love to do it, contact us @ editor@thenevibes.com. Let's connect on Facebook and Instagram