18 Stunning Photos That Prove Manipur is Much More Beautiful Than You Think
Surrounded by nine ranges of bluish green hills with an oval shaped valley at the centre, Manipur is indeed a Jewel of India.
Stunning Photos of Manipur
18 Stunning Photos That Prove Manipur is Much More Beautiful Than You Think
Manipur is much more beautiful than you think! Laishram Robertson Singh, a passionate photographer from Iramsiphai Mayai Leikai of Imphal West district, captures some spectacular landscapes of Manipur. His images range from the steep hills to the low lands, to the islands and tranquil lakes, to scenic villages.
He sharpens his photography skills when he joined the Manipur Photography Club (MPC) as one of its member. He has taken his passion to profession, and today he runs his studio - Khuman Photo Studio at Iramsiphai. While he mostly enjoys capturing the unmatched beauty of Manipur's landscapes, he also loves to preserve the unforgettable moments and beautiful emotions as a wedding photographer.
Let's discover the many hidden beauties of Manipur through Robertson's lens.
Surrounded by nine ranges of bluish green hills with an oval shaped valley at the centre, Manipur is indeed a 'Jewel of India', as described by late Pt. Jawaharlal Nehru. Nature has executed its exquisite work of art in the form of cascading rapids, colourful carpets of exotic flowers, serene lakes and rivers.
Manipur State Assembly Complex
The site, which was once used as a reserved line during the British colonial period before Assam Rifles turned it into their firing range, has a magnificent building - the new Manipur State Assembly Complex. The complex is located at Chingmeirong, Imphal. It is touted to be the most spacious assembly building in the entire north east region. The Chongabon (dome) of the Assembly building painted beautifully by artist Bonomali reflects the arts and artefacts of all the 32 ethnic groups of Manipur. The front lawn and garden have been decorated with a local variety of grass.
Cheirao Ching, Thangmeiband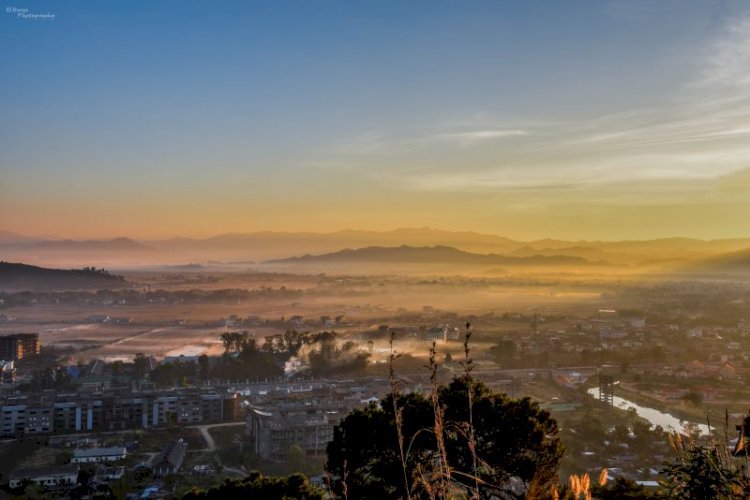 Early morning view from Cheirao Ching
Get a bird's eye view of Imphal city from Cheirao Ching at Thangmeiband, in Imphal. You can get some health inspirations from this hillock as it serves as a hot spot for early morning joggers, sports enthusiasts, and fitness freaks. It also holds a sacred place for the people of Manipur. There's a memorial of the freedom fighters of Manipur who laid down their lives for the state. Thousands thronged Cheirao Ching on the occasion of Cheiraoba (Manipur's New Year).
Hiyangthang Lairembi Temple
Dedicated to the goddess Hiyangthang Lairembi, this temple perched on a small hillock is situated at Hiyangthang, about 9 km from Imphal. Hiyangthang Lairembi Temple is a seven-storied temple; it is an important place of worship of the Meitei community. During the Bor festival, thousands of devotees offered their prayers to the goddess.
Moirang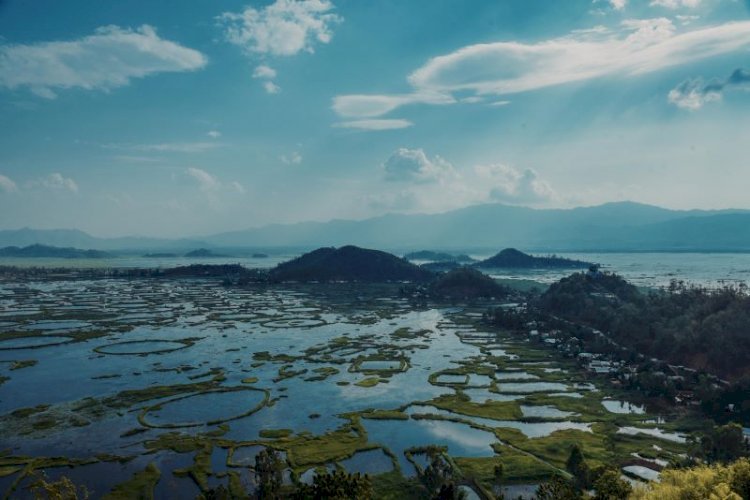 Moirang is of immense historical and religious importance to Manipur, besides being a popular tourist destination. It is about 45 km from Imphal. It holds an ancient temple of the pre-Hindu deity, Lord Thangjing. The flag of the Indian National Army was first hoisted at Moirang on April 14, 1944. There is also a dedicated museum of Indian National Army exhibiting letters, photographs, badges of ranks, and other articles associated with the Indian freedom movement. You will find an erected I.N.A. memorial with the bronze statue of Netaji Subhas Chandra Bose at the entrance of the museum. The place is also famous for traditional 'Moirang Lai Haraoba', an annual festival celebrated in the month of May. The graceful Khamba-Thoibi dance also originated from Moirang.
Kangla Fort
Situated close to the banks of the Imphal River, the Kangla Fort or Kangla Palace stands tall as a symbol of the glorious history of Manipur. It is also an important historical and archaeological site. The literal meaning of Kangla is Dry Land. It is where the kingdom of Manipur was established and developed. The existence of this fort dates back to 33 AD, when the mythical God-King of Manipur, Nongda Lairen Pakhangba first ascended the throne. Gradually, it was developed by successive kings who ruled the place, as cited in the royal chronicle, 'Cheitharol Kumbaba'.
In 1891, it was taken over by the British army after the Anglo-Manipur War. Later, the Assam Rifle took control of it, until 2004. On 20th November 2004, the Kangla Fort was handed over by the former Indian Prime Minister Manmohan Singh to the state government of Manipur. At present, the fort is open for visitors and is a major tourist attraction of the state.
Karang Island
This mesmerising island got nationwide attention when it was declared as India's first cashless island. The Karang island is located in the middle of Loktak, the largest freshwater lake in Northeast India.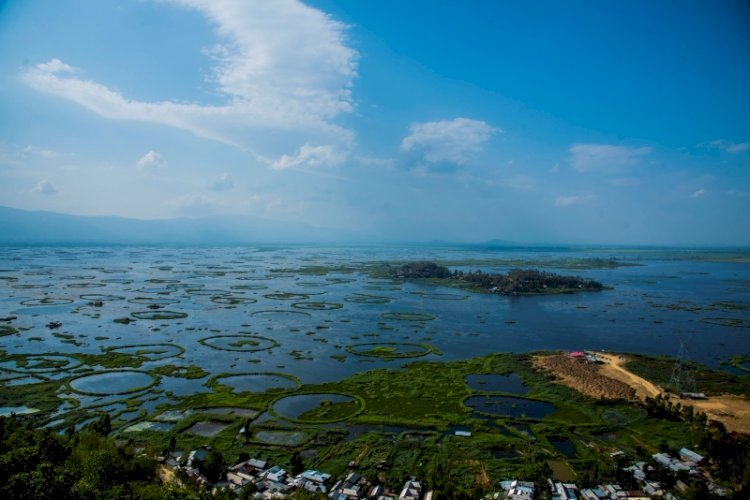 The view of the lake from Karang island is splendid. Enjoy a boat ride to Karang and get a glimpse of the village lifestyle.
Loktak Lake
Loktak Lake is the largest freshwater lake in Northeast India. This iconic lake, located in Moirang, Bishnupur district, at a distance of 48 km from Imphal, is popular for its circular floating swamps, called phumdis in the local language. The lake is home to 233 species of aquatic plants, more than 100 species of birds, and 425 species of animals. The other charm of this lake is the Keibul Lamjao National Park located at the south western part of the lake. It is the world's only floating national park and is a safe haven of the endangered Manipuri brow-antlered deer, Sangai, the state animal of Manipur.
Langol Peak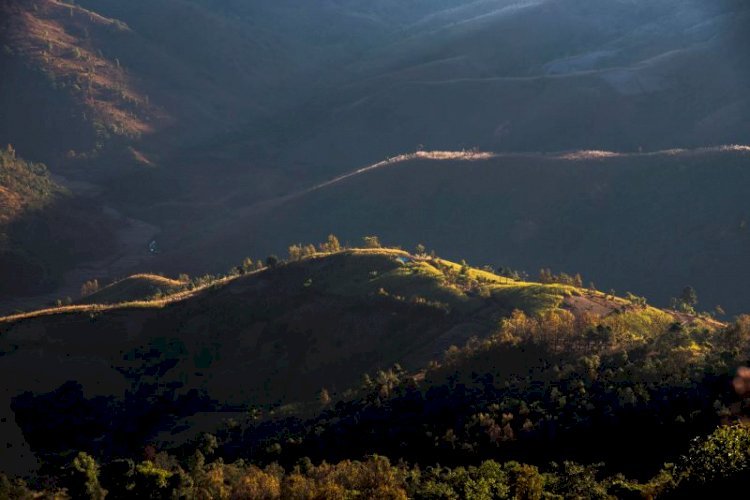 Morning view from Langol Peak
60 km drive from Imphal along the Indo-Myanmar road takes you to an enchanting Langol Village of Machi Sub-Division in Chandel District. Tlanglhungbung Leikol or Langol Peak garden is a major tourist attraction of this place. According to the legend of Khamba-Thoibi of Manipur, Thoibi came to pick the very special flowers known as Thoibi-Lei from this peak. It is also World War II historical site where allied forces put up their camps. There's a watch tower on the peak from where you can get a panoramic view of the surrounding landscape, hillocks and beautiful sceneries.
Khongjom War Memorial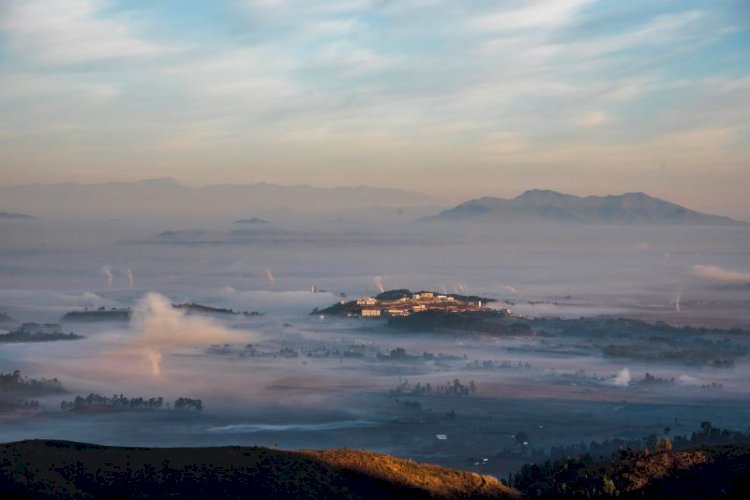 Early morning view of Khongjom War Memorial Complex in winter
About 33-km from Imphal city lies the historical site Khongjom War Memorial, located on Kheba Hill on Indo-Myanmar road in Thoubal district. The place witnessed the massive battle fought between the locals of Manipur and the British Army in 1891. The memorial is dedicated to brave soldiers of Manipur who showed their utmost courage and valour against the invading British Army in 1891. Major Paona Brajabasi, Chinglen Sana, Khumbong Major, Loitongba Jamadar, Keisa Jamadar, Heirang Khongja and many more warriors of Manipur sacrificed their lives at this battlefield. Khongjom Day is celebrated on 23rd April annually in the memorial complex.
Leimaram
Leimaram, located at about 25 km from Imphal, is one of the most visited tourist destinations of Manipur, thanks to its proximity to Sadu Chiru falls, a cascading fall in the foothills of Sadu Chiru Hills. Leimaram village is a plain area under Bishnupur district and is at a distance of about 3-5 km from Sadu Chiru Village. Sadu Chiru is a hilly area and falls under the Senapati district.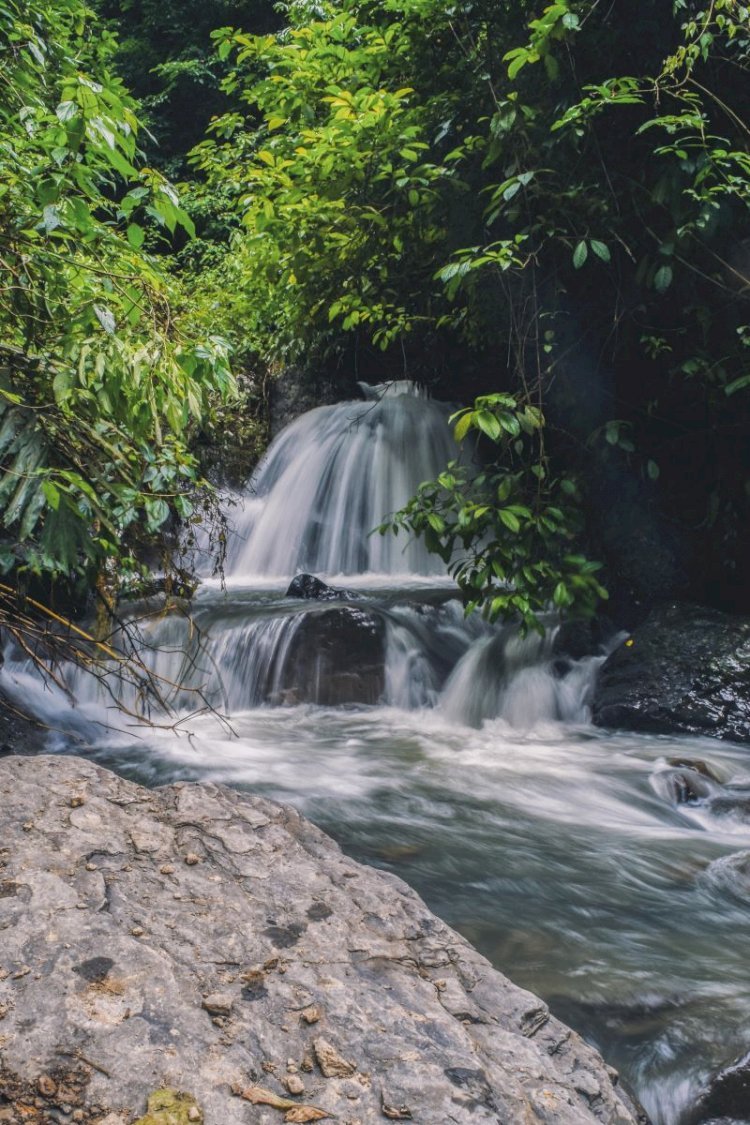 The waterfall is located right within the Sadu Chiru Village. On the side of it, you will find a beautiful garden called Agape garden. A new garden, known as Waroi garden, which is much bigger in length and breadth has recently been opened to the public. With Waroi Ching at the backdrop, manicured gardens, playing zones for children, party house, varieties of indigenous trees and plants, a shallow boating lake, Waroi garden is an attractive destination.
Uchiwa
Uchiwa is a charming village located in Wangoi sub division of Imphal West district, Manipur. It is one of those areas where you will want to take a break from the bustling city life and immerse in the beauty of the pristine rustic life.
Yumnam Huidrom
Lined up with lotus-decked ponds, and lakes, Yumnam Huidrom in Wangoi sub division of Imphal West is a quaint village, where you will feel life is at ease and relaxed. A bicycle ride will be the best option to explore every corner of this village.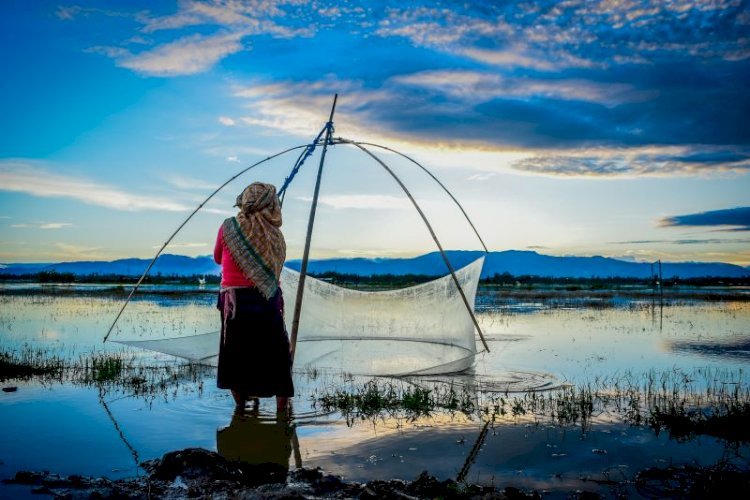 If you want to get hands-on the traditional fishing style of Manipur, you can request the fishing experts. Don't be surprised if you spot women and girls fishing, they are so adept at it.
Sandang Shenba Maring Khun
A picturesque village perched on the famous Nongmaiching ranges, to the east of Imphal. Maring tribe is the main inhabitant of Sandang Shenba Maring Khun. The tribe has a rich cultural heritage and they are excellent craftsmen in bamboo and cane works. Their expertise in occult science, art of weaving, singing and dancing, especially war-dancing are widely acclaimed.
It's time to pack your bags, and head to Manipur!
Here's more of Robertson's work.